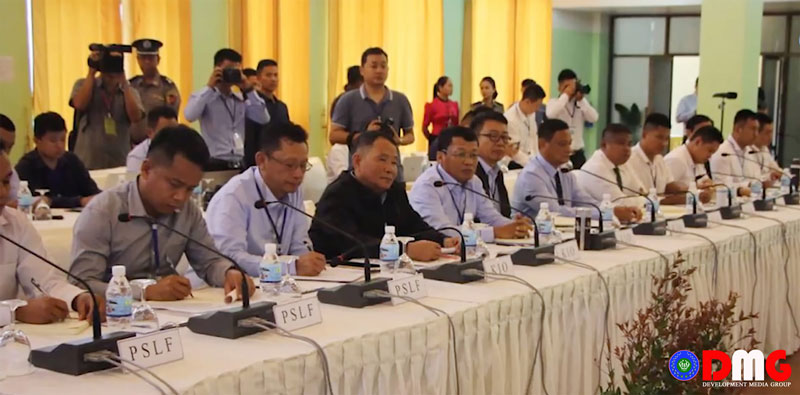 Aung Htein | DMG
8 January 2021, Sittwe  
U Zaw Htay, a spokesman for the President's Office, said the government would discuss ceasefire prospects with the four ethnic armies of the Northern Alliance on a case-by-case basis. 
The deployment of troops on both sides will be discussed, the spokesman told a press conference at the President's Office in Nay Pyi Taw on January 8. 
He said the two sides would discuss a wide range of issues such as internally displaced people (IDPs), development tasks, make-up elections in cancelled constituencies, and reaching an agreement to avoid clashes between the Tatmadaw and the concerned ethnic armed groups. 
"Territorial issues will be discussed with each group and agreements will be reached with each group. Then we will sign bilateral agreements with each group. Once completed, the next step is the Nationwide Ceasefire Agreement (NCA) negotiation process," he added. 
The President's Office spokesman went on to say that the government was ready for talks with the Northern Alliance and was awaiting a response from the military coalition. 
The government reportedly sent a draft ceasefire agreement to the four Northern Alliance members, including the Arakan Army (AA), on December 16. 
U Pe Than, the Lower House MP for Myebon Township, said the government should rescind its designation of the Arakan Army as a terrorist organisation if it wants to hold one-on-one talks with Northern Alliance members. 
"Only [then] will their talks be legal and governmental. Only then will the Arakan Army be able to get on the NCA path through the National Reconciliation and Peace Centre," the lawmaker added. 
The government declared the Arakan Army to be an unlawful association and terrorist group on March 23, 2020. 
But fighting between the Tatmadaw and Arakan Army has ceased for some two months as the two sides appear to have reached a détente following the November 8 general election, with Tatmadaw and AA representatives engaged in the early stages of potentially groundbreaking peace talks.   
In a New Year's Day speech to the nation, State Counsellor Daw Aung San Suu Kyi said she is prepared to take "new approaches" to the inclusion of ethnic armed groups that are not signatory to the NCA during the next government's five-year term.