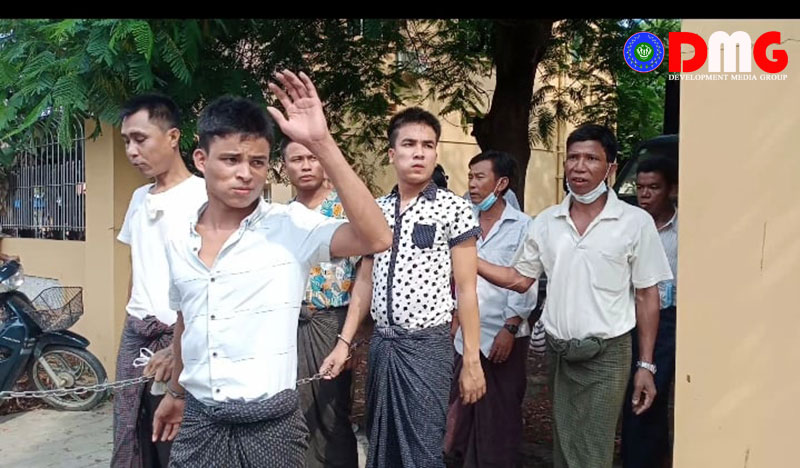 Aung Htein | DMG
8 January 2021, Sittwe 
A total of 362 people were arrested on suspicion of having ties to the Arakan Army during the two years of fighting between the Tatmadaw and the ethnic armed group in Arakan State, according to data compiled by the Thazin Legal Institute. 
Broken down by district, the accused totalled 79 in Mrauk-U, 47 in Kyaukphyu, six in Maungdaw, 218 in Sittwe and 12 in Thandwe, said the institute. 
Among them, one each from Mrauk-U and Maungdaw districts, four from Kyaukphyu District, 67 from Sittwe District and five from Thandwe District were released on bail. 
Some of the accused and their families have been subjected to lengthy trials and attendant hardships. 
Most of the detainees have families and it is difficult to measure the extent of the damage to their lives given the psychological, physical and economic distresses caused by the arrests, said U Nyein Chan, director of the Sittwe-based Thazin Legal Institute. 
"When a person is arrested, he or she suffers a lot, both mentally and physically, as well as economically. Many of those arrested are married and have children. Their plight is so emotional that it is almost impossible to find words to say," he said, adding that many detainees were deprived of their legal rights and access to family members and lawyers before prosecution. 
Twenty-four residents of Lekka village in Mrauk-U Township, who have been charged under Sections 50(a), 50(f) and 54 of the Counter-Terrorism Law and Section 21(a) of the 1949 Arms Act, have been facing trial for more than 18 months. 
"I had to spend about K100,000 [$75] when I saw my son being held in custody. Now that I have no job, I have had to sell my gold and silver, which I had been saving, to attend trial. Now that that's gone, I have to borrow money from some people," said Daw San Thar Nu, the mother of 24-year-old Ko Oo Hla Maung from Lekka village, who is currently being held in police custody. 
The Lekka villagers were arrested on suspicion of being Arakan Army (AA) members after clashes broke out between the Tatmadaw and the ethnic armed group near the village on April 10, 2019.
Twenty-seven people were apprehended at the time of the initial Lekka arrests, with three reportedly dying while being interrogated in military custody.  
Many other Arakan State residents have been questioned by the military on suspicion of AA affiliation amid tensions between the Tatmadaw and the ethnic armed group that steadily escalated for much of 2020. However, hostilities and related arrests have all but ceased in the aftermath of the November 8 general election, with the two sides engaged in the early stages of a peace dialogue.  
Locals and human rights advocates have demanded the release of innocent people who have been arbitrarily detained during the conflict in Arakan State.