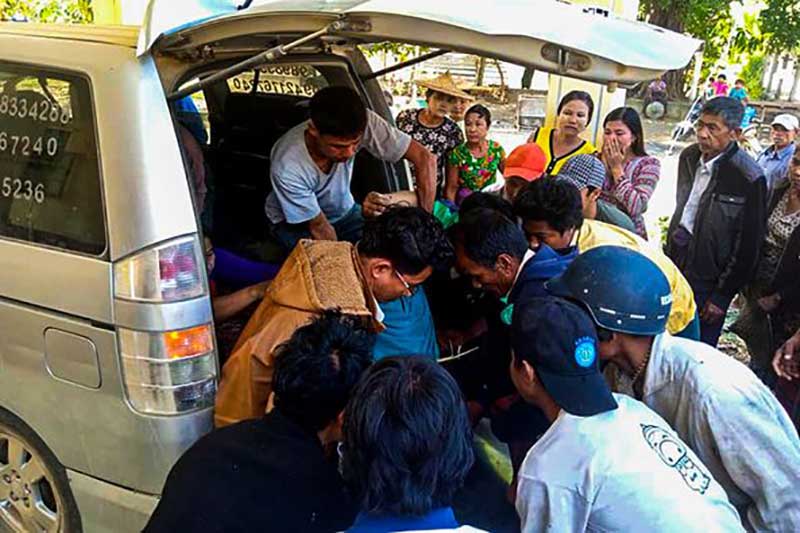 DMG Newsroom
17 February 2021, Sittwe

A man in Arakan State's Ann Township lost one of his legs in a landmine explosion on February 17.

U Nga Htay of Thayetpin Chaung village stepped on the landmine while foraging for wild vegetables along mountainous terrain outside the village on Wednesday morning, according to U Kyaw Htay, who accompanied U Nga Htay.

"There were three of us, and U Nga Htay stepped on the mine as he walked in front," said U Kyaw Htay.

U Nga Htay, 42, lost his right leg below the knee and also suffered injuries to his hands, according to witnesses. He is currently receiving medical treatment at the public hospital in Kanhtaunggyi town.

Authorities say they have begun clearing landmines in Arakan State in an effort to enable internally displaced people (IDPs) to return to their homes as fighting in the region has ceased since November.

Arakan State Administration Council member Colonel Min Than, however, has asked villagers not to venture into the mountains and forests outside their settlements as authorities are not able to remove landmines in those places for the time being.

"We make a living selling forest products," said Daw Lwin Lay, the wife of U Nga Htay. "As this has happened to us, we find it difficult to make ends meet. Unless philanthropists from this town help us now, we won't be able to cover medical costs for my husband," said Daw Lwin Lay, the wife of U Nga Htay.

According to government data, 19 people died and 39 were injured in 53 explosions from landmines and explosive war remnants (ERW) in 2019. The number increased to 61 explosions last year, in which 45 people died and 89 were injured.