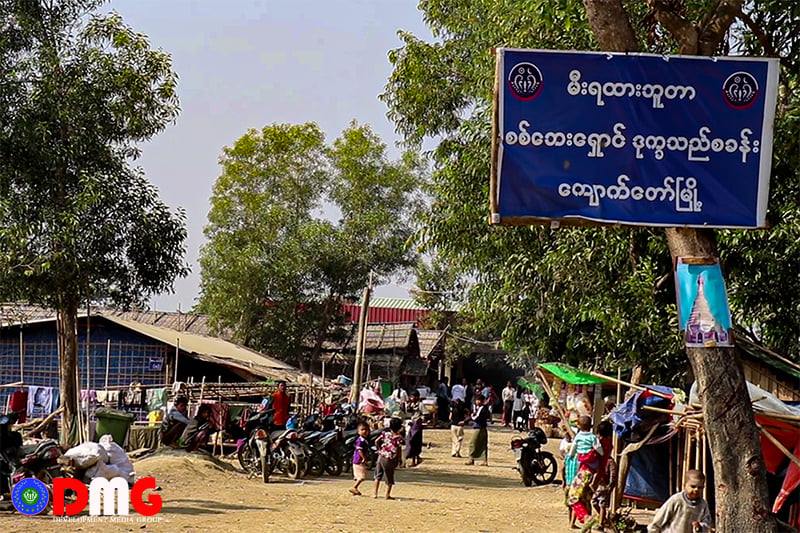 DMG Newsroom
19 February 2021, Sittwe 
More than 13,400 internally displaced people (IDPs) in Arakan State have registered with authorities to return to their homes from displacement camps, according to the Arakan State Administration Council. 
A total of 13,445 IDPs registered with authorities from January 16 to February 19, according to Colonel Min Than of the council. Among them are 8,918 Arakanese people and 1,846 Muslims in Buthidaung Township, 2,469 in Ann Township, and 212 in the capital Sittwe. 
"But they said they would return only after authorities clear mines at their villages," said Col. Min Than. 
Currently, authorities have only been able to register potential returnees in Buthidaung, Ann and Sittwe townships. Registration will take place in Minbya, Kyauktaw, Mrauk-U, Ponnagyun and Myebon townships only after landmines are cleared in those townships, according to Col. Min Than. 
"We can't let them return to their villages unless mines are removed. They will be hit by mines if they return now," he said. 
With the Myanmar military and the Arakan Army observing an informal ceasefire since November, authorities are clearing landmines along the Ann-Sittwe road and at some villages in Rathedaung Township to facilitate the return of IDPs.  
Rather than clearing mines along the Ann-Sittwe highway, authorities should focus on villages and surrounding areas where clashes took place in the past, said U Zaw Zaw Tun, secretary of the Rakhine Ethnics Congress (REC). 
"For IDPs to return to their homes, clearing mines is not enough. Authorities must rebuild or repair the houses that were destroyed or damaged in fighting. And that is not yet enough; there are military deployments in villages and artillery troops on hills near villages. They must withdraw," said U Zaw Zaw Tun. 
Authorities must also rehabilitate the livelihoods of returnees and restore the transportation links that have been disrupted by the military, he added. 
More than 180,000 people were displaced by fighting between Myanmar's military and the Arakan Army over the past two years, according to the REC. 
"I want authorities to design plans and execute according to those plans. Some villages may be ready for return before the rainy season [that typically starts in mid-May]. Some villages may not be ready. Authorities must design plans and share responsibilities with other organisations," he said.  
According to government data, 19 people died and 39 were injured in 53 explosions from landmines and explosive war remnants (ERW) in 2019. The number increased to 61 explosions last year, in which 45 people died and 89 were injured.