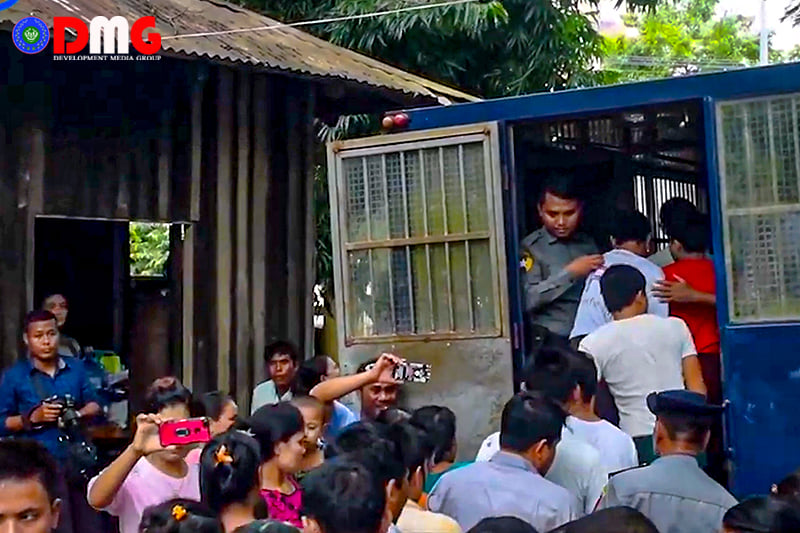 DMG Newsroom
22 February 2021, Sittwe 
The relatives of detainees charged for their alleged ties to the Arakan Army (AA) have called for speedy trials for the accused. 
Many detainees have been behind bars for several months without substantive progress in their cases, and their families say they are facing financial constraints as their loved ones' cases have dragged on. 
It has been nearly seven months since the last court hearing for several residents of Mrauk-U Township's Lekka village, said Daw San Tha Nu, the mother of 24-year-old detainee Ko Oo Hla Maung. 
"As stability has been restored in the region, I am earning a living by selling firewood. With that money, I buy food for myself and visit my son," said Daw San Tha Nu. 
However, collecting firewood in the forests of Arakan State involves significant risk, with unexploded ordnance and landmines left behind from fighting between the Myanmar military and the AA dotting the jungle terrain. 
"I am scared, but I have no choice and have to go into the forest to chop firewood," Daw San Tha Nu said. She visited her son two to three times a month in the past, but financial constraints have limited her visits to once every two months more recently, she told DMG. 
More than 20 Lekka villagers were arrested in April 2019, and they have been held in custody for nearly two years. 
The relatives of five detained residents of Kyaukseik village in Ponnagyun Township have also called for accelerated trial proceedings. 
"We want them to be put to trial," said Daw Ni Ni Aye, the mother of detainee Ko Nyi Nyi Aung. "Imprison them if they are guilty, and release them if they are not. They have been detained for nearly 11 months now for doing nothing wrong. I am asking this not only for my son, but for all the innocent people." 
The five villagers are facing charges under the Counter-Terrorism Law, and they were allegedly beaten by Myanmar Navy personnel following their arrest last year. 
Meanwhile, several students who staged protests against human rights violations in Arakan State last year have been held for about five months without trial. The Arakan Students' Union has called on authorities to initiate legal proceedings as soon as possible. 
"To detain a man in prison without a lawful trial is an anarchic act. I would like to urge authorities to handle this," said the chairman of the Sittwe University Students' Union, Ko Toe Toe Aung. 
According to the Thazin Legal Institute, 362 civilians were charged under the Counter-Terrorism Law for having alleged ties to the AA over two years of fighting between government troops and the Arakan Army. The military has designated the AA a terrorist organisation. 
A total of 78 — one from Mrauk-U District, four from Kyaukphyu District, one from Maungdaw District, 67 from Sittwe District and five from Thandwe District — have so far been released due to lack of evidence. 
Because most of those arrested in connection with armed conflict in Arakan State were breadwinners, their families often struggle to make ends meet as the accused await trial behind bars.