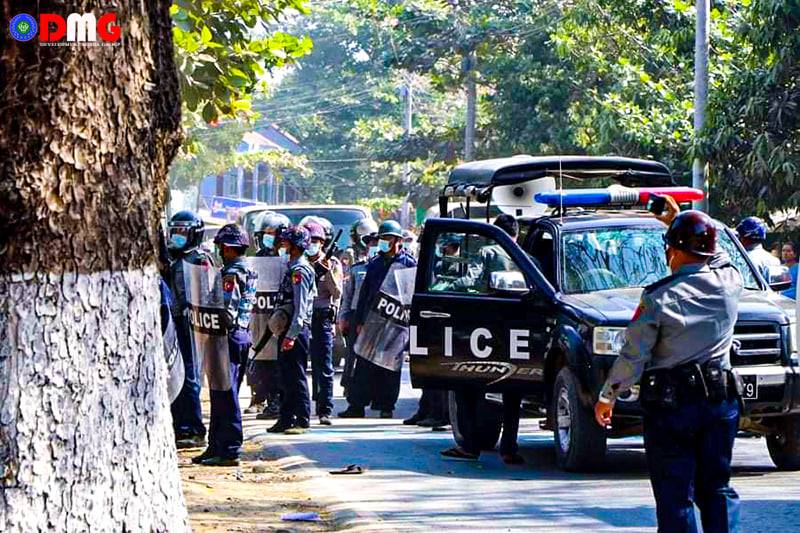 DMG Newsroom
24 February 2021, Sittwe

The relatives of four people who were arrested over a protest against the military regime in Arakan State's Thandwe Township last week say police are not allowing them to visit the detainees.

The four — one woman and three men — were taken into police custody after the anti-coup demonstration on February 16. They are being detained at the Thandwe Township police station.

"We went to the police station only to be shooed off as if we were dogs or cows. We were not allowed to see them," said Daw Ma Khin Mar Htwe, the mother of detainee Ko Aung Khine Myint.

The fourth detainee, U Khin Maung Myint, was arrested after he asked police to release the three others, according to his daughter Ma Chit Su Lwin.

"My father did not take part in the protest. He just followed the young protesters to take care of them, and was arrested," said Ma Chit Su Lwin.

The detainees have reportedly been charged under the Peaceful Assembly and Peaceful Procession Law, as well as the Natural Disaster Management Law.

DMG was unable to contact the Thandwe Township police force for comment.

At least 19 people have so far been arrested in Arakan State — seven in Ann, six in Taungup, two in Manaung and the foursome in Thandwe — for their alleged participation in anti-coup protests. On Wednesday, the seven people in Ann Township were fined K80,000 ($57) under the Natural Disaster Management Law and Peaceful Assembly Law.

Caption: Police in Thandwe Township on February 16.