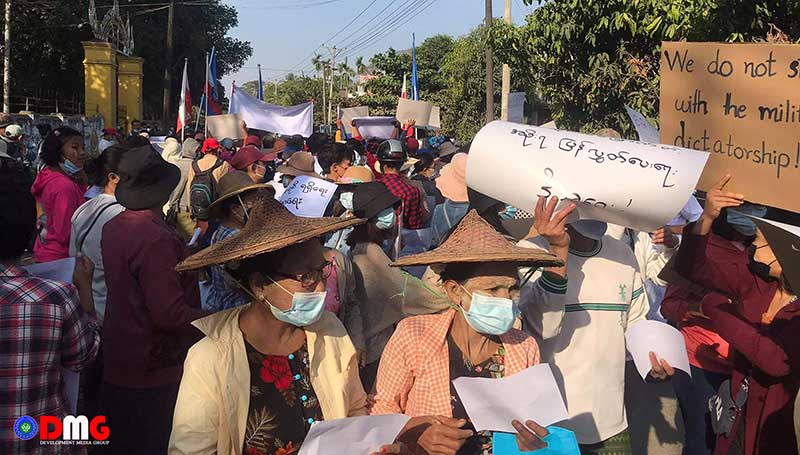 DMG Newsroom
6 March 2021, Taungup 
As anti-junta protesters stand trial for their activism in ever-increasing numbers, legal fees are piling up for the defendants and their families. 
U Chit Maung Maung is one such person, having been arrested in connection with a protest in Arakan State's Taungup Township on February 17 and now facing charges under Section 25 of the Natural Disaster Management Law and Section 505(a) of the Penal Code.  
His wife, Daw Chit Moe Khaing, said the family is struggling to come up with the money to pay for his legal defence. 
"We will have to pay about K1 million as a lawyer fee. I'd like to ask for help because we are not able to pay the lawyer fee," she said. 
Her husband made an initial court appearance via Zoom on March 2, with his second hearing scheduled for March 10, she said. 
"They told me to hire a lawyer for his case. I do not have money to pay for the lawyer, so I have not yet hired a lawyer," she said. 
A total of six people have been detained and are facing charges in connection with anti-coup protests in Taungup Township. U Kyaw Kyaw Linn, associate secretary of the Arakan League for Democracy (ALD), is one of them. 
U Myo Kyaw, the ALD general secretary, said U Kyaw Kyaw Linn's first court hearing has been scheduled for March 15. 
"We are preparing to face trial. We've met with lawyers and advisers," he said. 
More than 20 people in Arakan State have been arrested for alleged involvement in protests against the military regime.  
Seven residents of Ann Township were charged under the Natural Disaster Management Law as well as the Peaceful Assembly and Peaceful Procession Law, with a local court on February 24 ordering each defendant to pay a fine of K80,000.
Arrest warrants have been issued for some individuals accused of spearheading the protests in Ann, who have since gone into hiding, according to local residents.