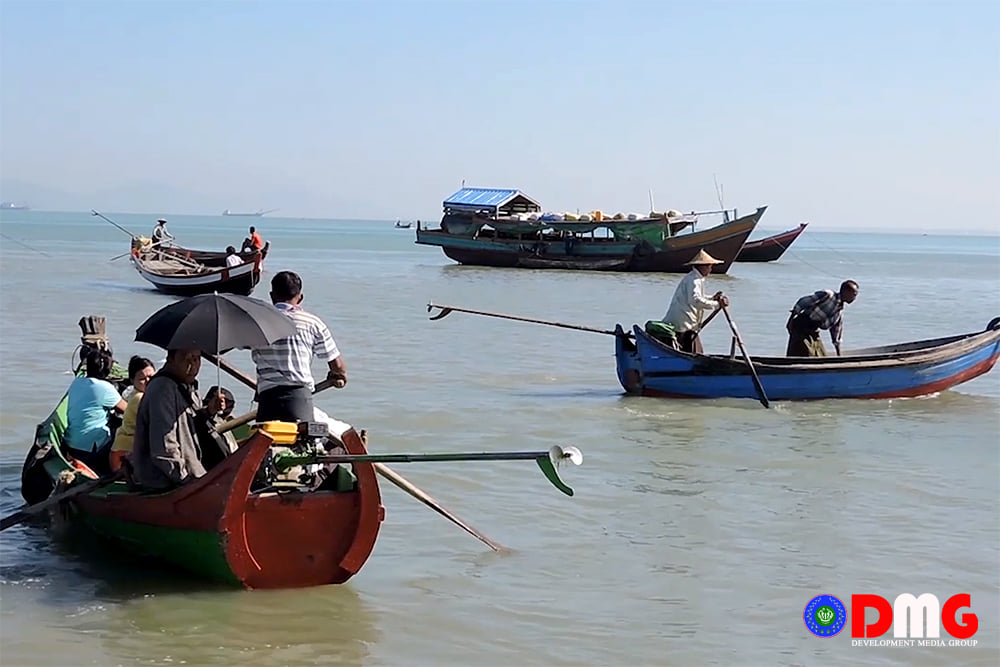 DMG Newsroom
29 April 2021, Sittwe
An urban land reclamation project implemented by South Korea's BXT International in the Arakan State capital Sittwe is bringing headaches for boatmen, fishing trawlers and dockworkers who now must look elsewhere for their mooring needs. 
Since the land was reclaimed, boats had been relying on a creek that flows through Sittwe in order to take shelter from wind and tidal surges in the rainy season.
But adding insult to injury, a bridge was recently built across the creek along with retaining walls, and boatmen from the jetty for Sittwe's central market have lost the place they had used to moor their boats.
One of those boatmen, Ko Ba Aye, said he is concerned as there is no place to take shelter from the wind, high tides and storms that often accompany the rainy season, which usually sets in by late May or early June.
That is because the bridge's clearance is too low for boats to pass under, said U Tin Hlaing, who collects docking fees from boats at the Sittwe central market's jetty.
"The bridge is low, so boats can't enter. Boats can't be moored here in case of tidal waves and bad weather in the rainy season," he said.
The bridge was donated by BXT International Co. and constructed with the approval of Sittwe community elders and the township development committee.
"This bridge was built to link the north and south of Gissipa ward. Our company funded the construction of this bridge," said construction manager U Aung Myo Thant of BXT International.  
He acknowledged that the bridge may impact people who make a living in its vicinity, but touted the benefits to town residents as it shortens travel time to the local market.
There are more than 300 dockworkers and 100 boatmen who are dependent on the Sittwe central market jetty. 
The land reclamation project, a joint venture between BXT International and the Arakan State government, was approved in 2016. 
BXT International spent over US$9 million to reclaim more than 90 acres of land next to the Sittwe jetty and will take 70% of profits from land sales, with the remaining 30% going to the state government.