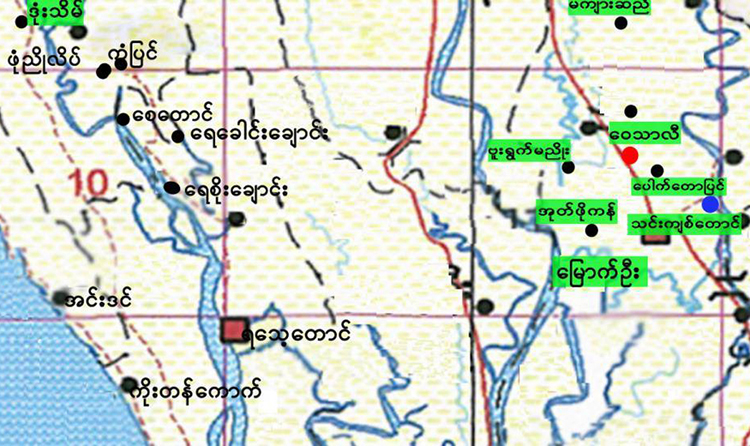 Nay Yaung Min | DMG
23 June, Sittwe

Eight people who have been suspected of being AA members were arrested near Waythali village in Mrauk-U Township, they were sent to Kyauktaw Myoma police station for interrogation, according to the Office of Commander-in-Chief of Defense Services.
The men were from Makyarsay, Buywetmanyo, Oatphoekan and Done Thame villages and four people were from Pauktaw Pyin village. They were arrested on 20 June. 
Acting on a tip, the Tatmadaw searched a monastery on Mt. Thin Kyit, about 1000 meters east of Pauktaw Pyin village on 21 June. It was a joint operation with elderly town residents and a village administrator, they found homemade guns, ammunition, explosive devices and accessories, uniforms, military equipment, food supplies branded WFP, other food and medicine, the Tatmadaw said.
The AA's spokesperson Khaing Thukha said that the detainees were just innocent villagers and members of the AA have not been arrested in the last five months. 
"In the press conference they held yesterday, they said they found homemade guns. It is a joke for us because we are fighting with the Myanmar Army using modern up-to-date weapons. Our weapons are not inferior, like theirs. We would never, ever think of using homemade guns," Khaing Thukha said.
The clashes between the Tatmadaw and the AA in Arakan State is escalating and attacks are occurring near the capital Sittwe.