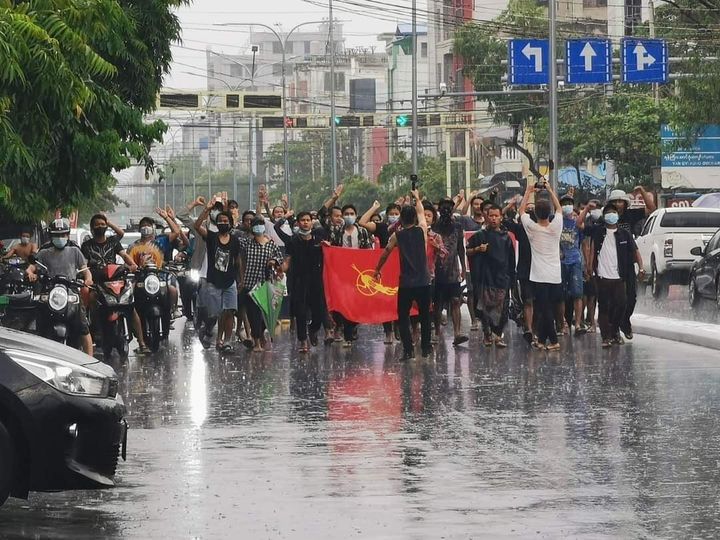 DMG Newsroom
14 March 2021, Yangon
About 100 students who are members of the All Burma Federation of Student Unions (Ba Ka Tha) have been arrested for joining the civil disobedience movement since the military seized power in a coup on February 1, said a responsible person from Ba Ka Tha.
Ba Ka Tha members Ko Thar Htet Aung and Ko Wai Phyo Hein from Pakokku Technological University, Salai Law Shein Kee, who is chair of the Pakokku University Students' Union, and that union's secretary, Ko Lin Aung, were sentenced to three years in prison on sedition charges under Sections 505(a) and (b) of the Penal Code.
Ba Ka Tha member Ko Zin Ko Tun from Myingyan Technological College in Mandalay Region was arrested on May 12 in Talokmyo village-tract and reportedly died during interrogation.
Ko Htoo Khant Thaw, secretary of Ba Ka Tha, said its members would continue to oppose the military junta for those students, activists and ordinary citizens who were killed during the anti-regime movement.
"These people sacrificed their lives fighting for democracy. Our federation has decided to fight them until we win in order that their sacrifice not be in vain. Now, we're trying our best," he said.
Universities have been reopened since May 5 at the instruction of the State Administration Council, but many students from universities and colleges across Myanmar have opted not to  attend classes to protest the military-run education system.
All people need to fight the military government because it will not bring any benefits for them, said Ko Aung Pyae Sone Phyo, vice chair of Ba Ka Tha.
"Besides Ba Ka Tha students, people have clearly seen the military dictatorship and military mechanism," he said. "If the military junta keeps ruling the country, the country's situation will get worse. There is no prospect for improvement. So, we have to fight military dictatorship in every way."
A total of 788 people were killed in military and police crackdowns and 5,020 were arrested during the 102 days of military rule starting from February 1 to May 13, according to the Assistance Association for Political Prisoners (AAPP).