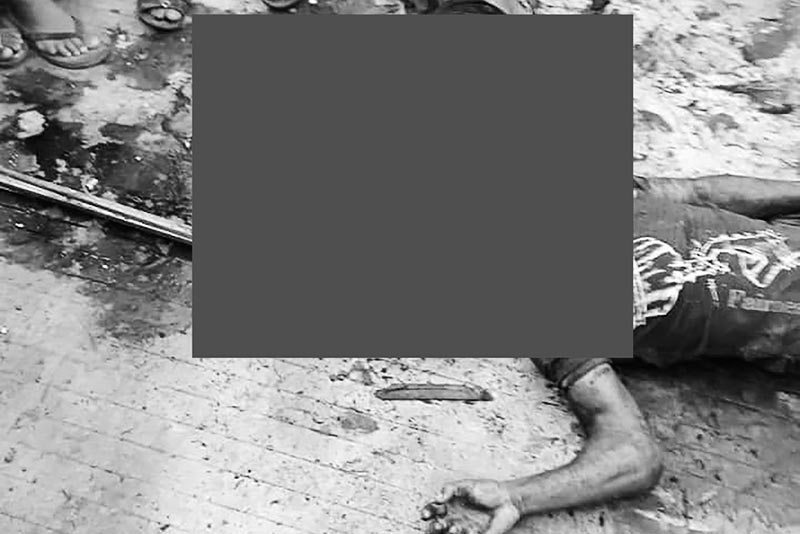 DMG Newsroom
4 June 2021, Ponnagyun  
Four men were killed in a bomb blast at about 1 a.m. on June 4 in Sanpya ward, Ponnagyun town, Arakan State, according to the ward's 100-household head. 
U Sein Aung Kyaw, the 100-household head, said the bomb exploded near the ring road bridge in Sanpya ward as the victims were returning from hunting for frogs. 
The victims have been identified as Soe Win Naing, 23, Naing Naing Tun, 22, Oo Kyaw Nyunt, 25, and Maung Chay, 22, from Sanpya ward. 
Dead frogs and bomb fragments were found at the scene, said U Win Ko Ko, chief of the Ponnagyun Township police station. 
"I saw a wild cat burning at the scene of the bombing. Frog-hunting equipment and bomb fragments were also found at the scene. What type of explosive is difficult to predict. A case has been filed in connection with the bombing," the police officer said. 
Landmine awareness groups say the death toll from such explosive remnants of war (ERWs) is on the rise in Arakan State. 
At least 10 people, including children, were injured and killed in at least 10 ERW explosions in Arakan State during the period from March to May. 
Landmine awareness groups say the increase is due to the stockpiling of unexploded ordnance and a lack of mine awareness. 
Landmine awareness activities in Arakan State are mainly carried out by the International Committee of the Red Cross (ICRC) and the Rakhine Ethnics Congress (REC). 
U Shwe Baw Sein, chairman of the Rakhine Ethnics Congress (REC), said that although the REC had conducted landmine awareness campaigns in conflict-affected Arakan State townships, locals were uninterested. 
The Myanmar military and the Arakan Army (AA) have observed an unofficial ceasefire for almost seven months in Arakan State, but there are frequent casualties from landmines and ERWs. 
At least 33 people were killed and 66 others were injured in explosions of landmines and ERWs during the two years of fighting between the military and the Arakan Army (AA) in Arakan State, according to figures issued by the REC.