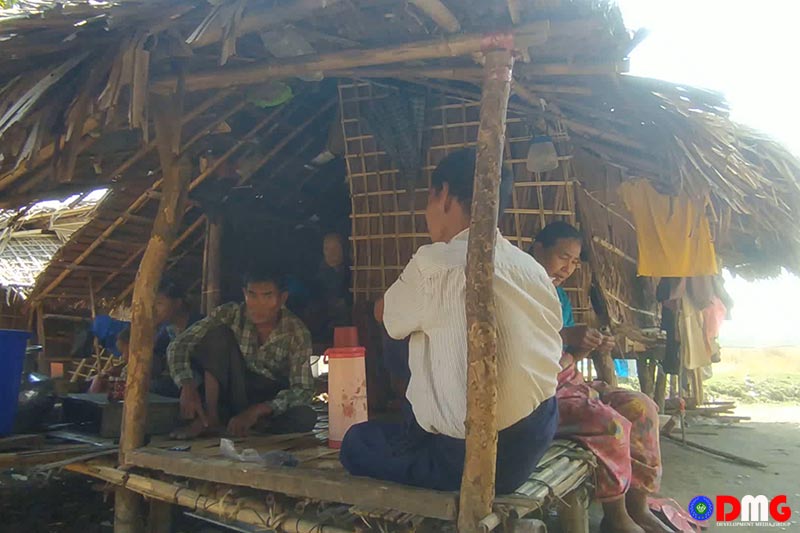 DMG Newsroom
12 June 2021, Buthidaung 
Residents of Aung Zeya village in Arakan State's Buthidaung Township have been uprooted for more than two years due to clashes between the Tatmadaw (Myanmar military) and the Arakan Army (AA) near the village in March 2019, according to locals. 
Tatmadaw troops are stationed on a hill in the village at present, preventing locals from returning, said U Maung Hla Han, a resident of Aung Zeya village.   
"We have not been able to return home for almost three years," he told DMG. "I went to the village for a while and there was no one in the village. We face many difficulties when we are going to plough our farmlands. Living in an IDP camp makes it difficult for us to make ends meet. We want to go back to the village, but security personnel are stationed in the village." 
At least eight houses in the village have reportedly been burned to the ground in clashes between the military and the Arakan Army. 
U Maung Thein Aung, another Aung Zeya villager, told DMG that local farmers are suffering financial losses every year because they cannot cultivate their land.
"Our farmlands produce about 500 baskets of paddy a year," he said. "It will be three years now that we have been living in the IDP camp, and we will not be able to farm this year, so we [Aung Zeya villagers] will [collectively] lose about 500,000 baskets of paddy. Others suffer more losses because they cultivate more paddy fields." 
There were a total of 184 households in Aung Zeya village, part of Sangohtaung village-tract, with the residents now dispersed across IDP camps in Sittwe and Buthidaung townships. 
There were more than 200,000 IDPs in Arakan State at the peak of the two-year conflict between the Tatmadaw and Arakan Army (AA), with some having returned to their homes since a cessation of hostilities in November 2020. Currently, more than 100,000 IDPs are sheltering at displacement camps, according to the Rakhine Ethnics Congress.