DMG Newsroom
14 June 2021, Manaung

Local farmers say they have not been paid compensation for farmlands that were confiscated three years ago to make way for a dam project in Pyin Kaut village-tract, part of Arakan State's Manaung Township.

More than 52 acres of land possessed by nine farmers who have land use certificates, also known as Form 7, and another nine farmers with less formal claims to the land, were confiscated for the dam, construction of which began in the 2019-20 fiscal year.

U Lone Khaing, whose farmland was taken for the dam, said farmers cannot cultivate and have been jobless due to the land confiscation.

"Farmers lost their farmlands, which they rely on for their livelihoods, due to the dam project. It has been three years. They haven't gotten any compensation yet. I want farmers to be paid compensation for their survival," he said.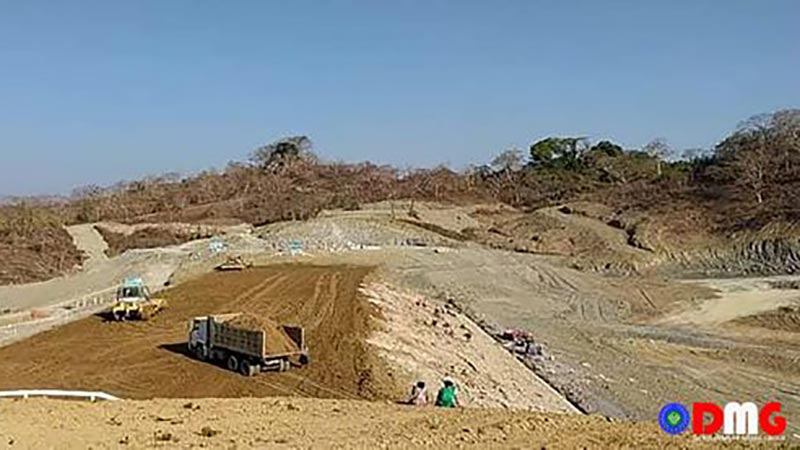 Although farmers whose farmland was confiscated had demanded compensation numerous times under the previous government, they received nothing.

"We submitted many times on this issue before, but in vain. Now, we haven't discussed yet [with the junta regime]," said farmer Ko Tin Maung Htwe, whose farmland was also confiscated.

When DMG phoned U Myint Lwin, deputy chairperson of the township military council, seeking comment on whether compensation for the confiscated farmland would be forthcoming, he replied that the issue was not concerned with their department.

The Irrigation and Water Utilization Management Department is responsible for managing the valley dam project under construction in Pyin Kaut village-tract. The 245 feet long, 40 feet high dam is estimated to cost K120 million.