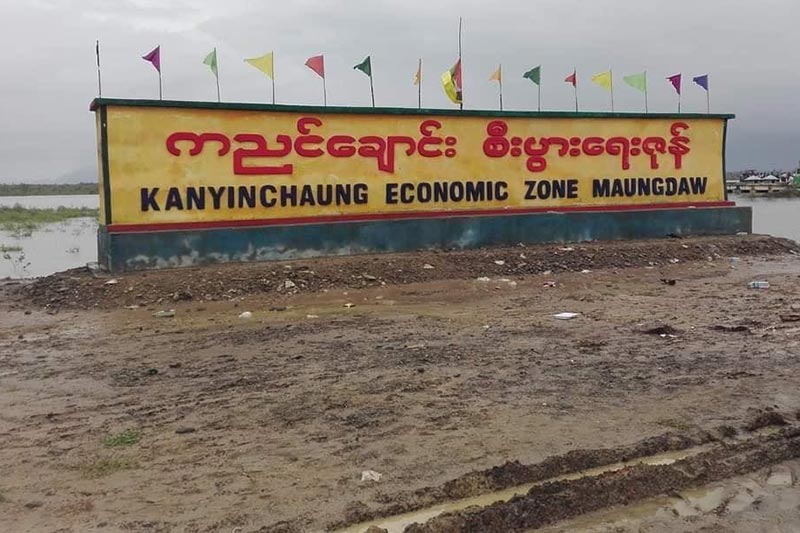 DMG Newsroom
1 July 2021, Maungdaw 
Trade at the Kanyin Chaung economic zone in Maungdaw town, Arakan State, is being hampered by damaged roads in the area, according to traders. 
"The roads are very bad. Vehicles skid and flip over. Onions get wet and damaged. It is very difficult for trucks to drive," said U Ar Yu, an onion exporter from Buthidaung Township. 
It is not the first time infrastructure challenges have hobbled border commerce: Hundreds of onion-laden trucks were stranded at the Kanyin Chaung economic zone last month. 
Development of the economic zone started in late 2015, aiming to create a trading hub and market for traders wanting to export their goods to Bangladesh. 
Although the economic zone has not yet been officially opened, trading began there on April 13 via the Maungdaw border route. 
"The roads are damaged and there is no warehouse. If it rains, we have to use tarpaulin for our goods so as not to get wet in the rain," said a trader from Maungdaw town who wished to remain anonymous. 
U Aung Myint Thein, vice chair of the Kanyin Chaung economic zone organising committee, said: "We've submitted to the district-level and Arakan State-level authorities regarding building a warehouse, upgrading from smoothed stone roads to concrete roads, and building a new bridge at Point of Exit-Entry in Maungdaw town, instead of using only Shwe Zar Bridge." 
Traders said they have also faced tidal issues when they trade goods using the Maungdaw border route via Maungdaw Creek. 
With trading via the Kanyin Chaung economic zone starting on April 13, trade volume stood at US$573,000 in April and $1.114 million in May. 
Trading in the Kanyin Chaung economic zone is currently free-of-charge, but charges will eventually be levied based on the tonnage of goods.