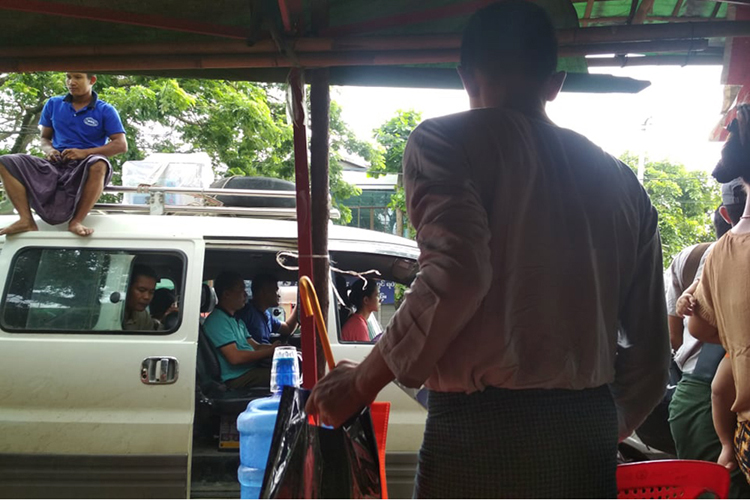 Win Nyunt and Soe Aung | DMG
July 1, Sittwe

The ongoing armed conflicts between the Tatmadaw and the AA that started since early December now occur near Yangon-Sittwe road, many public buses running between Sittwe, Kyauktaw and Mrauk-U are being affected by the skirmishes.

Bus lines have tried to operate on their daily routes, but passengers were afraid of travelling, bus drivers said.

"We got five passengers to go to Mrauk-U. But, because of the news of clashes on the way to Mrauk-U, they are afraid of travelling. We cannot operate buses on some days," said Ko Win Zaw, a driver for the bus line running between Sittwe and Mrauk-U.

Moreover, landmine explosions often occurred on Yangon-Sittwe road, bus line owners and passengers are concerned about the possible risk of bomb blasts. In addition the Tatmadaw checks passengers traveling on buses which makes passengers feel uneasy, said Ko Tun Nyein, a commuter from Mrauk-U ancient city.

"I returned home feeling anxious because soldiers checked passengers on the way. I took the bus that departed after 4 p.m. previous years. But, now I'm afraid of taking buses that leave at 3p.m in the afternoon," he said.

Buses from Sittwe usually depart for Mrauk-U at 6p.m in the past, but the last bus to Mrauk-U leaves now at 3p.m because of regional instability, according to bus drivers.

More than 10 buses were regularly running between Mrauk-U and Sittwe when there was no fighting in the region, but about only 5 buses are now providing transportation service for the public because of the instability.

In May, a bus was struck a landmine near Kya Inn Taung village in Myebon Township, but no one was injured.