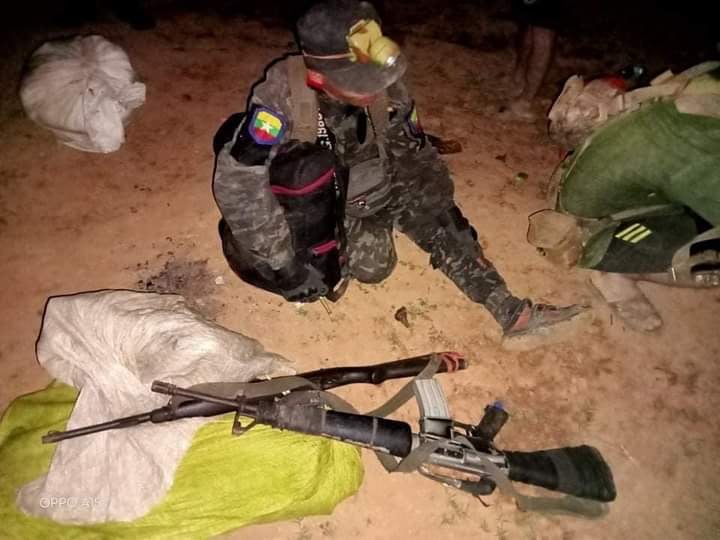 DMG Newsroom
18 December 2021, Myawady, Kayin State 
Clashes between the Myanmar military and the Karen National Liberation Army (KNLA) continued in the country's east on Saturday afternoon, with hostilities reported in areas controlled by Brigade Nos. 1 and 6 of the Karen National Union (KNU), the KNLA's political wing. 
The KNLA attacked and occupied a military outpost in Bilin Township, an area controlled by the KNU's Brigade 1 in Mon State, on the night of December 17, a source close to the ethnic armed group told DMG. 
"The KNU's armed wing KNLA launched an attack on the Kyat Thaung Seik military outpost, where Border Guard Force (BGF) members are stationed, and successfully took control of the military outpost," the source added. 
At least five border guard police were killed and some others were captured alive in the clash, according to the KNU. 
Two villagers were killed by artillery shells fired by the Myanmar military and more than 500 villagers were forced to flee to the nearby forest, according to local sources. 
"The Myanmar military [also] conducted airstrikes and we are monitoring the situation," an official from the KNU's Brigade 1 said. 
A fierce battle broke out between Brigade 6 and junta troops on Friday near Taw Naw Waterfall along the Myawaddy-Kawkareik Highway, part of what is known as the Asia Highway, killing at least 18 security personnel, including three Myanmar military officers. 
The Myanmar military has reportedly sent more than 1,000 reinforcements from Yangon, Bago, Taungoo, Myawady, Kyonedoe, Hpa-an and Mawlamyine amid the hostilities in and around Lay Kay Kaw town. In addition, the Tatmadaw is arranging to launch attacks on the KNLA using armoured vehicles and fighter jets, with fighting resuming in Lay Kay Kaw at around 2 p.m. on December 18, according to ground sources. 
Fighting between the Myanmar military and the KNLA in Lay Kay Kaw town, Kayin State, has forced more than 2,500 locals to flee their homes near the Thai border, and two elderly men were seriously injured when artillery shells fired by the Myanmar military fell on the Thai side. 
The Royal Thai Army has reportedly informed its Myanmar counterpart that it will retaliate militarily if more artillery shells cross the border. Thai military helicopters have been seen flying in the skies over Mae Sot, a town and major border crossing on the Thai side, according to a Thai source.