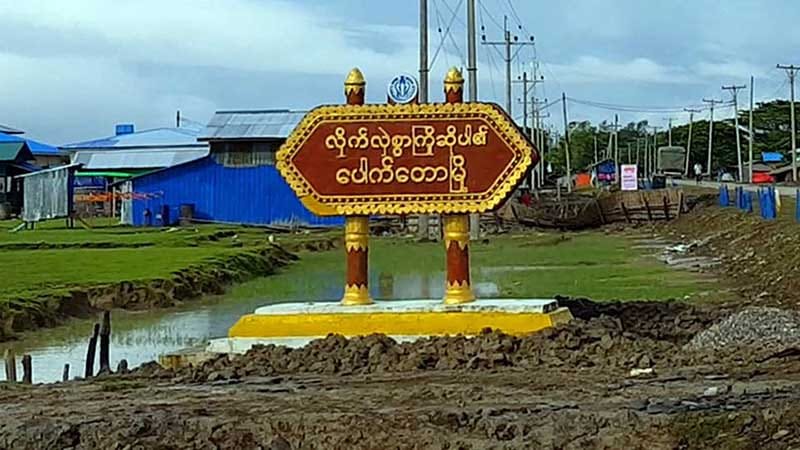 DMG Newsroom
3 January 2022, Pauktaw 
Villagers in Pauktaw Township, Arakan State, are reportedly worried as Myanmar military troops have moved from one village to another in recent days. 
A 50-strong military contingent entered Phayar Chaung village at about 4 p.m. on January 4 and conducted interrogations seeking household registration certificates and lists of homes, according to a village elder. 
"Around 60 junta soldiers arrived in the village and conducted census, lists of home, students and teachers," the village elder said. 
The influx of junta soldiers has left locals in a state of panic. The junta soldiers who arrived in Phayar Chaung village told locals not to be afraid, said the village elder. 
Junta troops arrived at Ale Phayonkar Island on December 29, 2021, and conducted interrogation-enquiries involving census and household registration documents, according to locals. 
"Locals are worried as the junta troops are moving from village to village. The locals feel that the arrival of the junta forces is threatening the lives and property of the people," said a resident of Gyit Chaung village. 
DMG repeatedly contacted Arakan State Security and Border Affairs Minister Col. Kyaw Thura and spokesman for the Arakan State Administration Council U Hla Thein about the junta soldiers' arrival to the Pauktaw Township villages, but the cabinet officials did not return DMG calls. 
Hostilities between the Myanmar military and the Arakan Army flared with regularity in western Myanmar from late 2018 to late 2020, but the two sides have since reached an informal ceasefire. 
During the ceasefire, the Arakan Army has built up its influence in Arakan State and is conducting administrative and judicial functions. As the Arakan Army is building up its influence, the Myanmar military is moving to townships such as Kyauktaw, Myebon, Buthidaung and Pauktaw to warn locals not to get involved with the Arakan Army. 
On the other hand, tensions between the Myanmar military and the Arakan Army have escalated as junta troops have been moving from village to village in Arakan State, gaining control of the area and conducting military operations, the ethnic armed group said on December 10. 
The Arakan Army has warned in a statement that the two sides could return to a state of war at any time, and that the people of Arakan State should be on high alert.