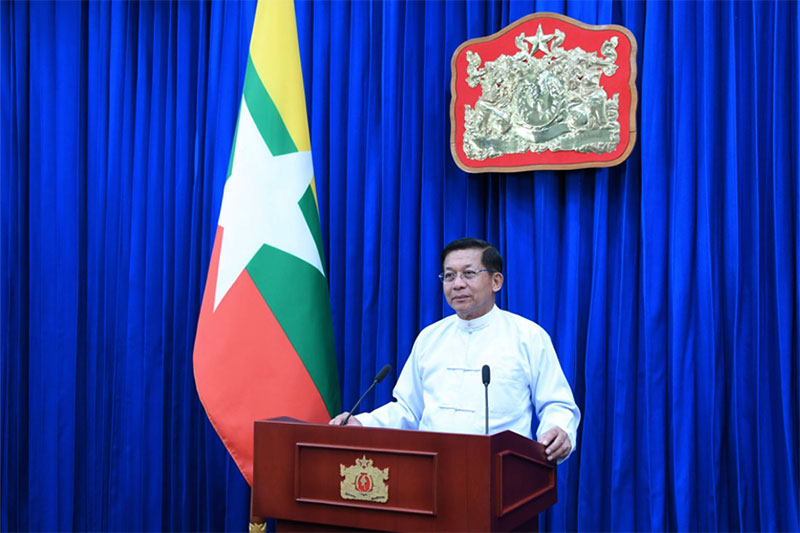 DMG Newsroom
22 April 2022, Sittwe 
Junta chief Senior General Min Aung Hlaing on Friday invited Myanmar's ethnic armed groups to engage in dialogue as the military regime endeavours to restart the country's moribund peace process in the wake of its February 2021 coup.
The State Administration Council (SAC), which Min Aung Hlaing chairs, will work for a nationwide ceasefire by 2022, the junta chief said in a speech on the peace process.
"I will meet all ethnic armed groups personally. I will also discuss with members of the State Administration Council. I will hold further discussions with ethnic armed groups if necessary," Myanmar's regime leader added.
In an address carried by state media, Min Aung Hlaing called for representatives of ethnic armed groups to register for talks by May 9, adding that he would meet them personally.
"I would like to say that the two sides will negotiate and set a date for the talks. We are all going to discuss honestly and openly ... for the people to be able to enjoy the essence of peace and development. I urge the ethnic armed groups to work together for the benefit of all people of the Union," Min Aung Hlaing said.
It has been more than a year since the military overthrew Myanmar's elected civilian government, led by the National League for Democracy (NLD), on February 1, 2021. 
Several ethnic armed groups have been engaged in active hostilities with the military since the coup, including the Karen National Union, one of the most influential signatories of a so-called Nationwide Ceasefire Agreement (NCA) inked with eight ethnic armed groups in October 2015 under a quasi-civilian government at the time.