AA warns of possible fighting
The Arakan Army (AA) warned on Sunday that clashes could take place at any time in Arakan State due to growing military tensions between it and Myanmar's military regime. 
By DMG 16 May 2022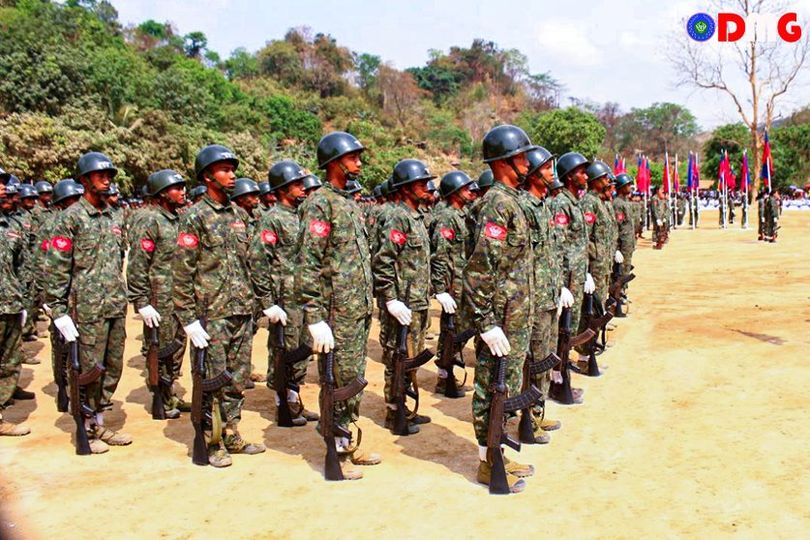 DMG Newsroom
16 May 2022, Sittwe 
The Arakan Army (AA) warned on Sunday that clashes could take place at any time in Arakan State due to growing military tensions between it and Myanmar's military regime. 
Military tensions have been running high in Arakan State with Myanmar's military increasing its regional presence and disrupting the AA's administrative and judicial functions, said the AA statement. 
"Clashes are likely because we have seen increased activities of Myanmar's military recently. And the two sides are just observing an unofficial ceasefire. So, we guess clashes can take place any time," said former Buthidaung Township lawmaker U Aung Thaung Shwe. 
Renewed clashes could be fierce, and the AA's statement could be interpreted as asking the people to make preparations, said U Aung Thaung Shwe. 
The AA's statement accused the regime of threatening and attempting to arrest the AA staff engaged in its judicial system. The regime's disruption of trials under AA courts, threats to those who seek justice at AA courts, and attempts to disrupt harmony between Arakanese and Muslim communities have been increasingly common, said the statement. 
The statement urged civilians to avoid travelling near old and existing outposts of Myanmar's military and routes used by the military. 
Renewed fighting could be even more fierce than previous iterations, should it take place in Arakan State, said Ko Ann Thar Gyi, chairman of the charity group Thingaha Kanlet Rakhita. 
"People will mainly suffer in case of a clash. There will be a lot of damage to the lives and properties of people. There will be more serious damages should clashes happen in Arakan State," he said. 
In its Sunday statement, the AA said two civilians were recently killed due to mines planted by Myanmar's military during the war period in Ann and Minbya townships.  
It is unusual for the AA to mention a fatal blast in its statement because the armed group had previously said anothing about dozens of such explosions that left civilians dead or injured since the fighting ceased in November 2020. So, observers view it as a sign that renewed fighting can erupt anytime in Arakan State. 
The chairwoman of Rakhine Women's Network, Daw Nyo Aye, said: "If a region is excessively oppressed, it will repulse when it can no longer tolerate it. But people have to be careful because it is them who will have to suffer finally." 
The AA's statement came one day before the AA chief Major General Twan Mrat Naing held online talks with ministers of the parallel National Unity Government, which is fighting the regime. 
Earlier this month, the AA chief publicly warned the commander Major General Htin Latt Oo of Myanmar military's Western Command. 
"Ko Htin Latt Oo, don't go too far. You have been irritating. I won't give a shit about peace [if you carry on]. I will come to your place and crush it," the AA chief wrote on Twitter on May 6. 
Local people who bore the brunt of fighting over some two years from 2018-2020 are concerned about renewed fighting in Arakan State. 
U Thein Tun Oo, a displaced person taking shelter at Nay Pu Kan camp for internally displaced people (IDPs) in Kyauktaw said: "We faced many hardships even now [despite an absence of ongoing fighting]. We do not have enough food at the camp, and we have to search for food in the forest. We will have to suffer more if clashes recur. And it will become more difficult for us to return home." 
Myanmar's military and the AA have largely observed an informal ceasefire since November 2020, after two years of often intense fighting. The United League of Arakan (ULA), the AA's political wing, has since expanded its parallel administration, complete with a judiciary, revenue department, public security offices and other governmental institutions.  
Myanmar's military over recent months has sent its troops into villages in what critics say is an effort to frighten off support for the AA.