AA says junta has detained over 30 civilians in three Arakan State townships
The Arakan Army (AA) says the Myanmar military has recently detained 32 innocent civilians from Sittwe, Kyauktaw and Ponnagyun townships.
By DMG 27 Jun 2022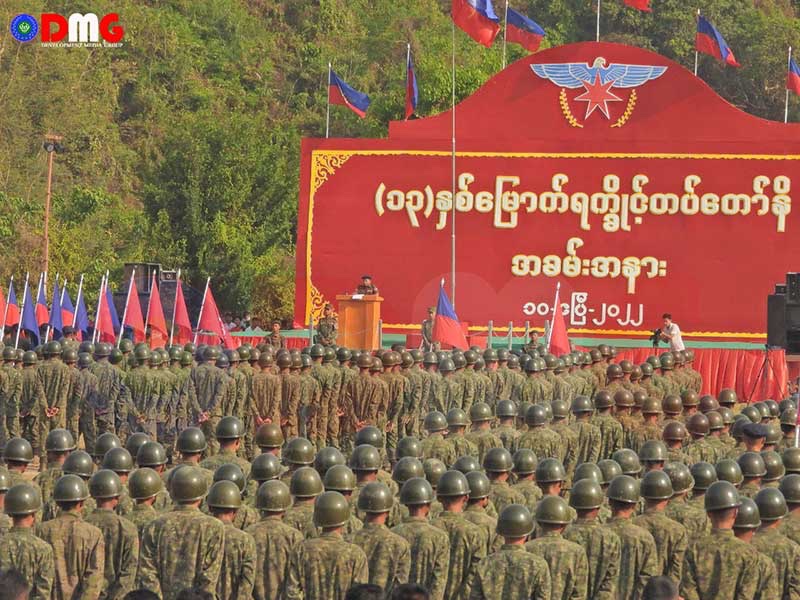 DMG Newsroom
27 June 2022, Sittwe

The Arakan Army (AA) says the Myanmar military has recently detained 32 innocent civilians from Sittwe, Kyauktaw and Ponnagyun townships.

According to the AA, 21 people in Sittwe, three in Kyauktaw and eight in Ponnagyun were detained by the regime in response to the AA's abductions of junta personnel.

Between June 11 and June 23, the AA seized at least 14 junta personnel including soldiers, military security affairs officers and police in Kyauktaw, Ponnagyun, Mrauk-U, Ramree and Sittwe townships.

More than 20 residents from four wards in Sittwe, including a ward administrator, were abducted by the regime after the AA seized a Myanmar military captain and private on June 23.

Daw Kyawt Kyawt Lwin, the wife of Ko Khin Maung Saw, who was recently detained in Singuu ward, said: "I still can't contact my husband, and I don't know where he was taken. He has high blood pressure. My husband is innocent and has no ties to any organisations. Please release him as early as possible."

Elsewhere, family members are concerned about the fate of Ko Ba Hlaing, a construction materials shop owner who was detained by the regime in Ponnagyun Township.

"I still don't know where he is being held," said his wife, Ma Aye Aye Khaing. "I am also hiding for fear that they might also arrest me. I am concerned for his safety."

Former Lower House lawmaker U Aung Thaung Shwe of Buthidaung Township criticised the Myanmar regime, saying it was violating the military code of conduct by arresting civilians.

"I have nothing to say if they arrest each other's members. However, I can't tolerate that they arrest civilians," U Aung Thaung Shwe told DMG.

On June 24, Arakanese politician Dr. Aye Maung told DMG that the two sides should hold talks through intermediaries to resolve their issues.

DMG was unable to obtain comment from junta spokesman Major General Zaw Min Tun regarding the regime's alleged arrests of civilians in Arakan State.

In a BBC report on June 23, Maj-Gen Zaw Min Tun was quoted as saying: "We are tolerating Arakan State. The Tatmadaw [Myanmar military] has not made arrests without reason. We haven't made arrests regarding the AA. However, when it comes to security, such as disrupting the administrative mechanism, we must take action in line with the law. However, we have not arrested anyone for no reason, or over their ties to AA."

Locals say that at least 20 civilians have been detained by the regime in Mrauk-U Township alone. DMG could not independently verify those reports. The AA has not yet released figures on civilians recently taken into military custody there.