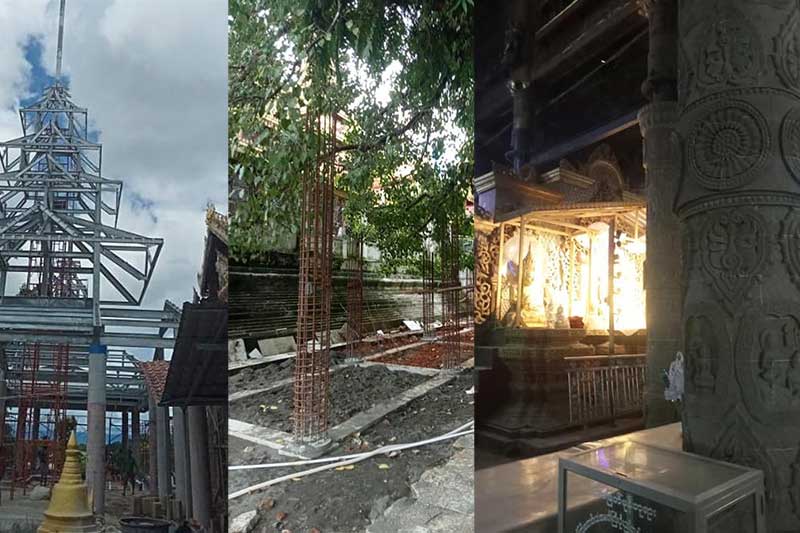 DMG Newsroom
5 August 2022, Kyauktaw

The renovation of columns at the Mahamuni Buddha Temple in Kyauktaw Township has been delayed by rising military tensions between the Myanmar military and the Arakan Army (AA), according to the religious site's board of trustees.

The majority of workers repairing the columns are from Sittwe, Kyauktaw and Mrauk-U, and they dare not come to the site because of junta security checks on the way.

Around 100 general workers are involved in the renovation process, but more workers are needed, said a trustee.

"General workers sometimes dare not come due to checks on roads. So, the renovation has been significantly delayed. We also do not have enough skilled workers," he said.

The need to seek the approval of the Arakan State security and border affairs minister to bring in the necessary construction materials for the renovation project is also reportedly causing delays.

The renovation began on February 24 of last year, and yet less than one-third of the columns have been renovated so far, said a pagoda trustee.

"The renovation of 28 columns in the main hall are complete. But columns from other halls have yet to be touched," said trustee U Nyo Tha Hla.

A total of 110 columns will be renovated at the temple. Building materials are bought from Yangon, Mandalay and other cities, and their prices have increased, he added.

"We will need more than the estimated amount because of price hikes," he told DMG.

The renovation is being carried out under the guidance of Yadana Manaung Monastery Sayadaw Ashin Waramida from Mrauk-U.