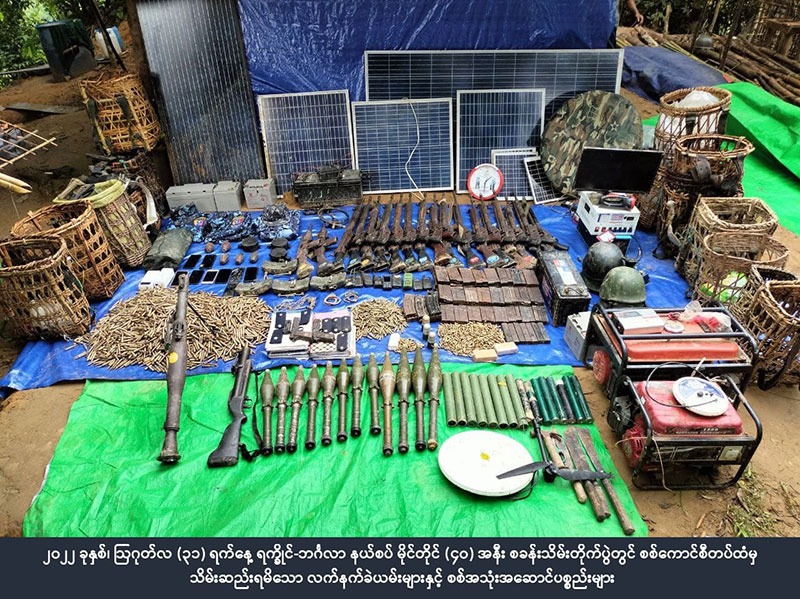 DMG Newsroom
31 August 2022, Maungdaw

The Arakan Army has occupied a military outpost near Milepost No. 40 on the Myanmar-Bangladesh border in northern Maungdaw Township, Arakan State, the ethnic armed group said in a statement on August 31.

In overtaking the outpost, the AA described its offensive as being retaliation for the junta's artillery shelling of Kin Seik village in Mrauk-U Township on August 28, which killed three civilians including a child, and injured nine others.

The fighting near Milepost No. 40 began on August 2 and the AA occupied the junta encampment on August 31, the statement said.

At least 19 junta soldiers and police were killed in the fighting, a police lance corporal was captured alive, and weapons and rounds of ammunition were seized, according to the AA statement. The AA also suffered some casualties during the battle to capture the camp, it added.

A clash also broke out between the military and AA near a road about 700 metres west of Manyintaung village in Rathedaung Township on August 30, with both sides suffering casualties, the statement continued.

And 10 junta soldiers were killed in a clash with the AA at a location about 500 metres west of Myeikwa village in Chin State's Paletwa Township on August 31, according to the statement.

The military junta had not commented on the AA's statement as of press time.

After two years of fighting from late 2018 to November 2020, the Myanmar military and Arakan Army reached an unofficial ceasefire. But the peace pact has appeared on the verge of total collapse for weeks amid months of escalating military tensions and a series of clashes between the two sides.