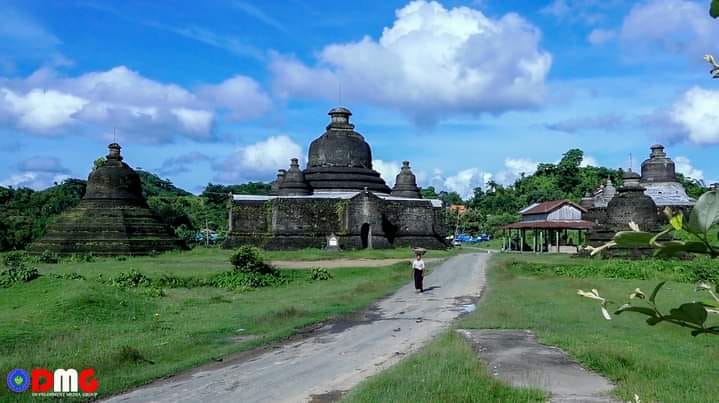 DMG Newsroom
4 September 2022, Mrauk-U 
The Arakan Army (AA) chief lashed out at Myanmar's military regime via Twitter on Sunday, accusing the junta of "unleashing their dastardly playbook" on civilians in Mrauk-U, which has hosted some of the latest fighting between the military and Arakan Army. 
"SAC is unleashing their dastardly playbook and modus operandi. Mrauk Oo is being hold [sic] hostage by the cowards who dare fight only against the unarmed civilians, operation is reportedly carried out by the direct order of the 55 LID [Light Infantry Division] commander," Major-General Twan Mrat Naing tweeted on September 4, referring to the State Administration Council (SAC), as the regime refers to itself. 
The AA commander-in-chief's post to the social media platform came hours after junta soldiers reportedly entered Mrauk-U and opened fire indiscriminately, local residents have alleged.  
At least one town resident was also detained by the military on Sunday morning. Junta soldiers arrested Ko Kyaw Zan Wai aka Ko Yin Hsot, a resident of Mrauk-U's Taungyat ward, at about 7 a.m. on September 4, sources close to his family told DMG. 
U Myat Tun, director of Arakan Human Rights Defenders and Promoters Association, criticised the military regime, saying it was working to instil fear among the public. 
"It is not good that the junta troops entered Mrauk-U and opened fire indiscriminately. That is a deliberate abuse of the people," he said. 
Three civilians including a 4-year-old child were killed and eight others were injured in Mrauk-U Township on August 28, when the military shelled Kin Seik village. 
The fresh fighting in Mrauk-U has also renewed concerns about preservation of the area's cultural heritage. The ancient Arakanese city's archeological ruins, temples and pagodas are at the forefront of its ongoing bid for recognition as a World Heritage Site by the United Nations' cultural agency UNESCO. 
Some ancient structures in Mrauk-U's old city were damaged during fighting in the preceding 2018-2020 conflict between the Arakan Army and the military, and the junta has shown little regard for cultural sensitivities in fighting between its troops and anti-regime forces since it seized power last year. 
"During the armed conflict between junta forces and the anti-regime troops led by EAOs [ethnic armed organisations], the military was seen acting arbitrarily, without any supervision or control," said U Than Soe Naing, a political analyst. "Regime forces have destroyed more than 10 Christian churches in Chin and Kayah [Karenni] states. In the event of fighting, the soldiers of the military council do not have the knowledge to protect cultural heritage." 
According to local residents, shops in Mrauk-U were largely closed on Sunday and there were few pedestrians to be seen due to the presence of junta soldiers in the town. 
"The Myanmar military should not threaten the people with its arms at a time when people are facing economic hardships," said an unnamed resident of Mrauk-U. 
DMG phoned Arakan State Minister for Security and Border Affairs Colonel Kyaw Thura for comment on the matter, but he could not be reached. DMG was unable to obtain comment from regime spokesman Maj-Gen Zaw Min Tun. 
Myanmar's military and the Arakan Army reached an informal ceasefire agreement ahead of the country's November 2020 general election, after some two years of often-intense fighting in Arakan State and neighbouring Chin State. But the peace pact has verged on total collapse for weeks amid months of escalating military tensions and a series of clashes between the two sides across multiple Arakan State townships, and in Paletwa Township. 
Analysts have warned that the fighting may continue to intensify as both sides are currently ratcheting up military tensions.