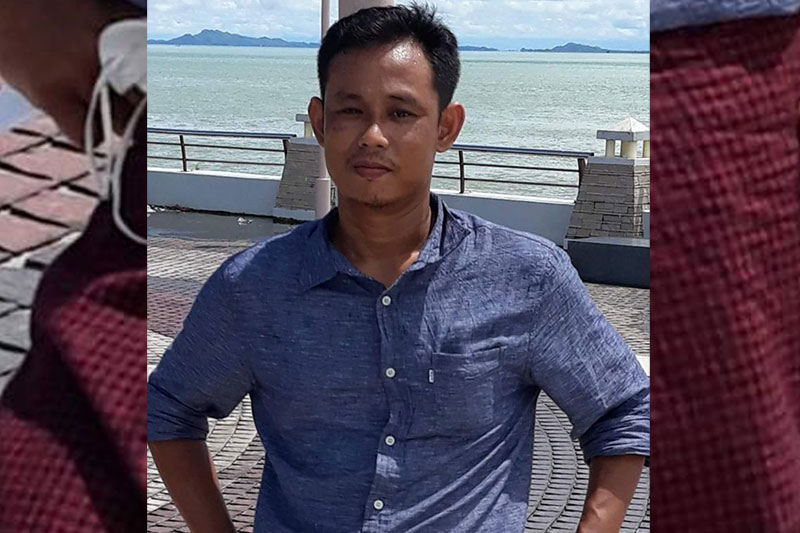 DMG Newsroom
20 September 2022, Mrauk-U 
Myanmar military and police personnel detained Ko Mrat Thu Tun aka Ko Phoe Thiha, a former reporter, near Latkauk bazaar in Arakan State's Mrauk-U at about 1 p.m. on Tuesday. 
The 38-year-old was taken from his home by junta soldiers and police, Aye Mrat Khin, the younger sister of the detainee, quoted eyewitnesses as saying. 
"The neighbours phoned me that Ko Phoe Thiha was abducted from his home by junta soldiers and police. Neighbours said they saw him [Ko Phoe Thiha] handcuffed in a police car," she explained. 
Family members also said Ko Phoe Thiha runs a toy shop in front of his home. 
"We are concerned for his safety because we don't know where he was taken. There were some junta soldiers and police near Letkauk bazaar," Aye Mrat Khin said. 
DMG continues to attempt to contact officials from the Mrauk-U Township police station regarding the matter. DMG was unable to obtain comment from Arakan State Minister for Security and Border Affairs Colonel Kyaw Thura. 
Ko Phoe Thiha previously worked as a reporter for multiple Arakan State-based news outlets, as well as for media organisations in mainland Myanmar. 
Ko Kyaw Zan Wai aka Ko Yin Hsot was taken from his home in Mrauk-U's Taungyat ward by junta soldiers on September 4.He was reportedly arrested on suspicion of having ties to the Committee Representing Pyidaungsu Hluttaw (CRPH) and National Unity Government (NUG), and charged under Section 505(a) of the Penal Code, the military council said on September 6.