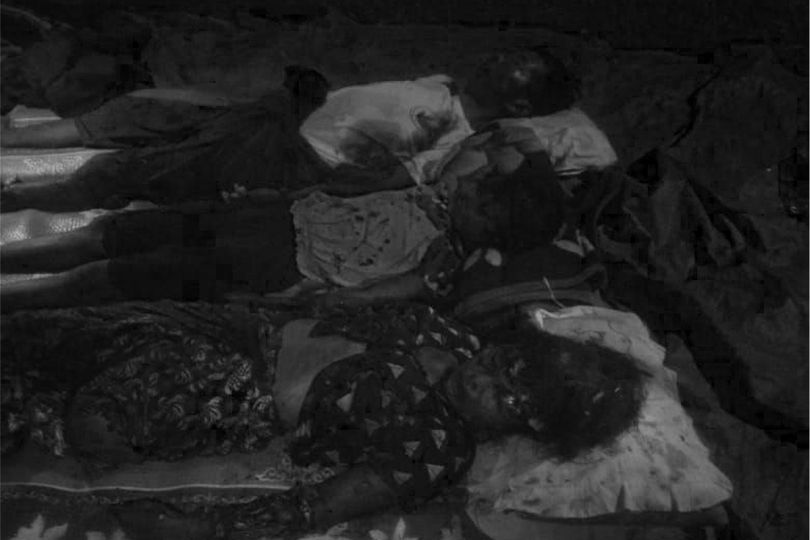 DMG Newsroom
1 November 2022, Kyauktaw 
A mother, father and their 13-year-old daughter were killed by artillery fire on Monday night while sleeping at home in Pisi Village, part of Arakan State's Kyauktaw Township, with the Myanmar military being blamed for the shelling. 
The victims have been identified as U Soe Win, 45, his wife Daw Than Than Wai, 44, and their daughter Ma Phyo Phyo Wai, a Grade 6 student. 
"An artillery shell hit their home while they were sleeping at about 11 p.m. The three family members were pronounced dead at the scene," said a neighbour. "The couple's eldest son was working in Malaysia at the time." 
Out of seven artillery shells fired toward the village by the military, four hit the village, also killing some cows and destroying a few homes, according to another resident. 
"Four artillery shells fired by the military landed and exploded in the village, and killed three people in a family," the resident confirmed. "Another shell hit U Than Tin's home. U Than Tin escaped harm because he was hiding in a bomb shelter. One more shell landed and exploded in front of U Than Tin's home, killing some four cows and injuring two cows." 
Locals blamed the military's No. 9 Military Operations Command for the shelling, and said the attack came without any indication of active conflict in the area. 
DMG was unable to obtain comment from Colonel Kyaw Thura, Arakan State minister for Security and Border Affairs, and Major-General Zaw Min Tun, spokesmen for the military junta, regarding the matter. 
Local residents in Pisi Village are worried about their safety following the incident. 
A Grade 10 student was injured when an artillery shell fired by the military's Light Infantry Battalion (LIB) No. 539, based in neighbouring Kansauk Village, landed and exploded in Kyauktaw Township's Hsinmakyaw Village on October 29, according to the village administrator. 
A Muslim woman was killed by a shelling in Paikthel Village, Kyauktaw Township, on October 17.