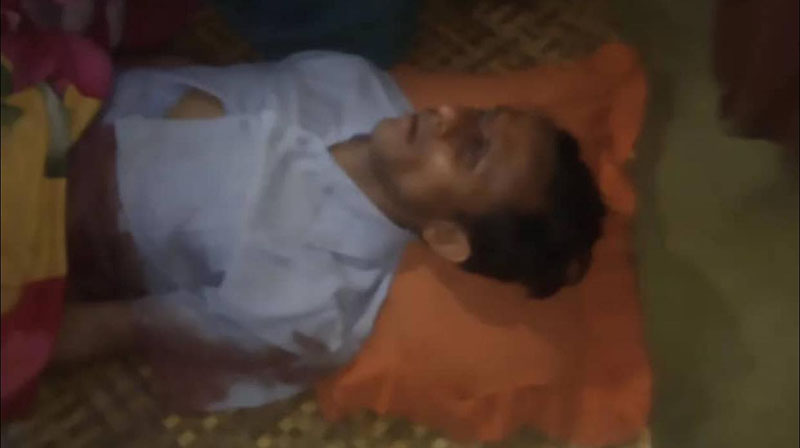 DMG Newsroom
5 November 2022, Buthidaung 
A Muslim schoolteacher was killed, and two other people including a child were injured by artillery strikes in Tharekin Manu Village, part of Arakan State's Buthidaung Township, at around 11 a.m. on Saturday, according to local residents. 
Three shells hit the predominantly Muslim village, where the 30-year-old schoolteacher Abul Nawsel reportedly died on the spot when he was hit by shrapnel in his abdomen. 
A 5-year-old boy sustained a wound to his left shin and a 32-year-old woman's right arm was injured, a village leader told DMG. 
"Children were playing [outside] when an artillery shell landed in the village," he said. "The boy was injured. As the schoolteacher went to check on the boy, he was struck by shrapnel from another shell incoming, and the woman was injured when her house was struck by a shell." 
There was no fighting in the vicinity of Tharekin Manu Village at the time of the shelling. The mortars were fired by the 15th Military Operations Command (MOC) based in Buthidaung, according to a villager who spoke on condition of anonymity for fear of reprisals. 
"The 15th MOC has been shelling since the morning. It is their routine. Shells landed on the village and also near the village. So, villagers are worried," he said. 
DMG was unable to obtain comment from junta spokesman Major-General Zaw Min Tun and Arakan State Security and Border Affairs Minister Colonel Kyaw Thura regarding the fatal shelling. 
The injured as well as the body of the deceased were sent to Buthidaung Township Hospital, said an official of the Shwe Buuthi charity. 
"Someone from the village phoned and told us about casualties. So, we went there and transported the body and those injured to the hospital," he said. 
A Muslim faith leader in Poe Kaung Chaung Village, Buthidaung Township, was also injured by a junta artillery strike on October 27, and is still receiving treatment at the township hospital. 
At least 11 civilians were killed and 31 others were injured by landmine explosions, stray gunfire and artillery strikes in Arakan State and neighbouring Chin State's Paletwa Township last month alone, according to a DMG tally. 
Since August, the Myanmar military and Arakan Army (AA) have been actively engaged in armed hostilities across multiple Arakan State townships, and in Paletwa Township.