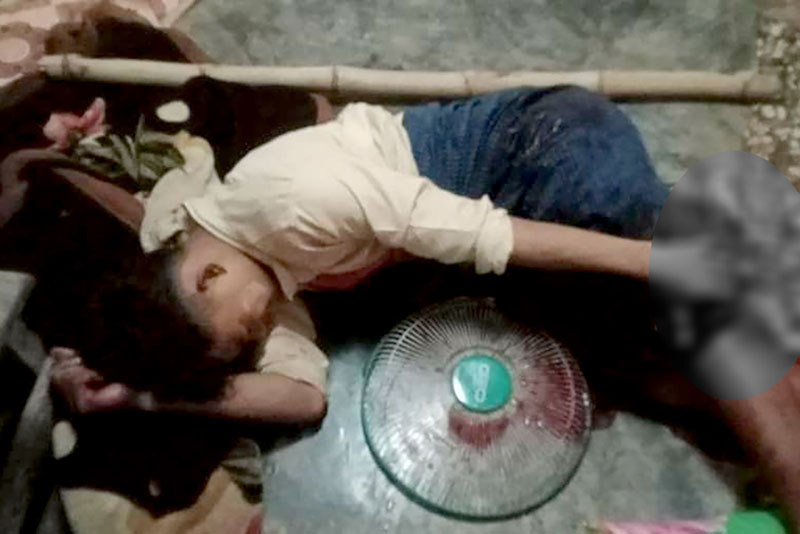 DMG Newsroom
10 November 2022, Ponnagyun
 
The Myanmar military carried out airstrikes and fired artillery shells into multiple Ponnagyun Township villages after one of its trucks was attacked by the Arakan Army (AA) at a location between Padetha and Hsininngyi villages on Thursday morning, locals said.
 
The Arakanese ethnic armed group ambushed the junta vehicle, which was transporting food supplies along the Yangon-Sittwe road in Ponnagyun Township, with a remote-controlled landmine at around 5:30 a.m. on November 10.
 
Junta battalions based in Ponnagyun responded with artillery strikes and helicopter gunships, said a resident of Padetha Village. Three junta helicopters strafed the village, forcing locals to flee, said the resident.
 
"No one remained in the village and all residents fled to safer locations," said the Padetha villager. "I also left my home and fled to Alekyun Village."
 
Locals in at least three other area villages reported strafing by regime helicopters on Thursday morning.
 
Meanwhile, the military's Ponnagyun-based Light Infantry Battalion No. 550 and a temporary junta outpost in Kun Taung Village reportedly began firing mortar shells at 7 a.m.
 
Daw Ma Nu Chay, 52, and Maung Soe Win Oo, 15, from Ai Tin Village were injured by artillery fire, a resident told DMG.
 
"We are fleeing to safer locations," the Ai Tin villager added. "Six artillery shells fired from the direction of Kun Taung Village landed and exploded in the village. Two residents were wounded by the shelling and we are making arrangements to send the injured to the hospital."
 
Maung Soe Win Oo sustained shrapnel wounds to his left leg while he was inside his home and Daw Ma Nu Chay was injured by shrapnel after an artillery shell fell in front of her home.
 
U Oo Saw, a 60-year-old man, was injured after an artillery shell landed and exploded in Ponnagyun Township's Yarchaung Village, a resident told DMG.
 
"He was injured by shrapnel while he was working on his vegetable farm outside the village. His condition is considered not life-threatening," he added.
 
Schools and markets in Ponnagyun town and villages in the vicinity of the attacks were closed on Thursday, and streets were largely deserted. 
 
DMG attempted to contact Arakan State Minister for Security and Border Affairs Colonel Kyaw Thura and junta spokesman Major-General Zaw Min Tun for comment on Thursday's attacks in Ponnagyun Township, but they could not be reached.
 
AA spokesman U Khaing Thukha also could not be reached for comment.
 
Dozens of people were killed by artillery fire, landmines and other conflict-related violence in the three months from August to October amid renewed fighting between the military and AA in Arakan State.