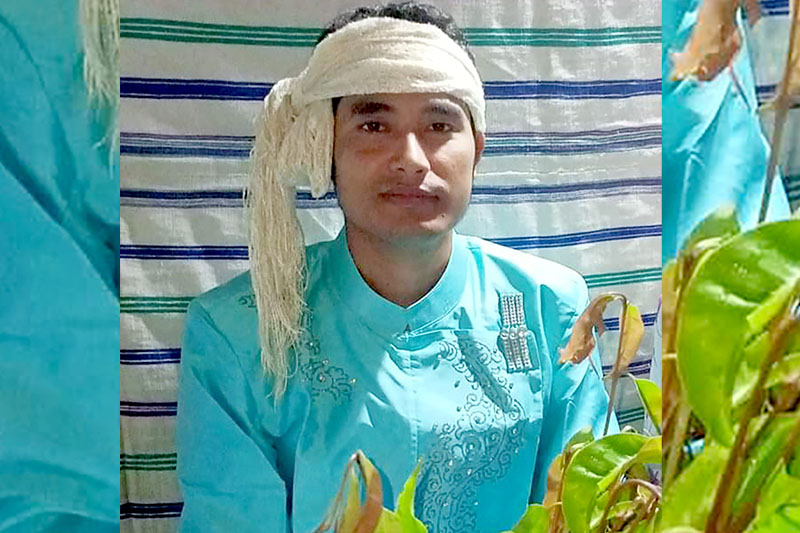 DMG Newsroom
10 November 2022, Sittwe
 
The Arakan Liberation Party (ALP) on Thursday alleged that the Arakan Army (AA) abducted one of its central committee members earlier this week.
 
The ALP said Khaing Mya Thar was detained on his wedding day, November 7, in Ywa Thit Village, near the border with the Indian state of Mizoram.
 
"That day he wedded in the morning, and was detained later in the evening," ALP vice chair Daw Saw Mra Razar Linn told DMG. "We were heartbroken to hear about his abduction. A wedding day is one of the happiest days in life for most people. We feel very sorry that he was abducted on such a day. There must be humanity."
 
The AA has arrested both senior ALP figures and rank-and-file members, as well as supporters, since early this year, the ALP alleged in a statement on Thursday. Sixteen were abducted in August alone, said the ALP statement.
 
"We are, however, not doing anything for the release of the detainees. We are waiting for the AA to release them when we have mutual understanding," she said.
 
The ALP statement also condemned the AA's alleged arrest of leaders from other political parties and civil society organisations in Arakan State. 
 
"If [Arakanese] organisations do things like this to each other, it will be very difficult to achieve national unity," said Daw Saw Mra Razar Linn. "All of us are working for the cause of Arakan State and Arakanese people. We will have to engage in dialogue in the future. We don't want to see any act that could undermine national solidarity."
 
When asked by DMG about the alleged abduction of Khaing Mya Thar, AA spokesman U Khaing Thukha denied the ALP's accusations, calling them "baseless." 
 
"What we understand is Khaing Mya Thar was detained because of internal frictions within the ALP. It has nothing to do with either our organisation or organisation members," said U Khaing Thukha.
 
The ALP is a signatory to the Nationwide Ceasefire Agreement, and an ALP delegation led by Daw Saw Mra Razar Linn has been involved in peace talks with Myanmar's military regime since earlier this year.
 
The Arakan Army, meanwhile, is engaged in active armed conflict with Myanmar's military regime, with fighting reported across much of Arakan State and in neighbouring Paletwa Township, Chin State, since August.