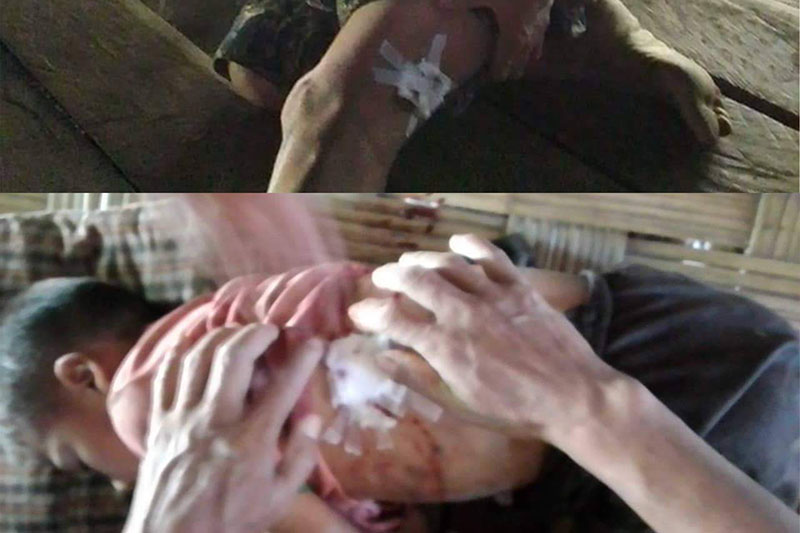 DMG Newsroom
12 November 2022, Mrauk-U

Two residents including a preteen boy were wounded by an artillery strike in Kyaungtaung Village, part of Arakan State's Mrauk-U Township, on Saturday morning.

The injured have been identified as Daw Ma Tin Thein, 55, and Maung Ko Khaing Win, 12.

A resident of Kyaungtaung Village accused military troops stationed on Taungphyu Hill, about five furlongs east of Panmyaung Village, of firing the artillery shell into the village at around 10 a.m.

"Out of three artillery shells fired by the military, an artillery shell fell in the village, injuring two residents. The injured are my neighbours," the resident added.

Daw Ma Tin Thein sustained shrapnel wounds to her left thigh. Maung Ko Khaing Win suffered significant blood loss from an injury to his torso, and so was transferred to Mrauk-U Hospital.

"There was no fighting near the village, which is far from Taungphyu Hill," the resident said. "The military's firing of artillery shells into the residential areas was just intentional [and unprovoked] firing. The villagers are worried that more artillery shells will be fired by the military. If the military continues to fire heavy weapons into the village, the residents will not stay in the village."

DMG was unable to obtain comment from Arakan State Minister for Security and Border Affairs Colonel Kyaw Thura and regime spokesman Major-General Zaw Min Tun regarding the matter.

AA spokesman U Khaing Thukha also could not be reached.