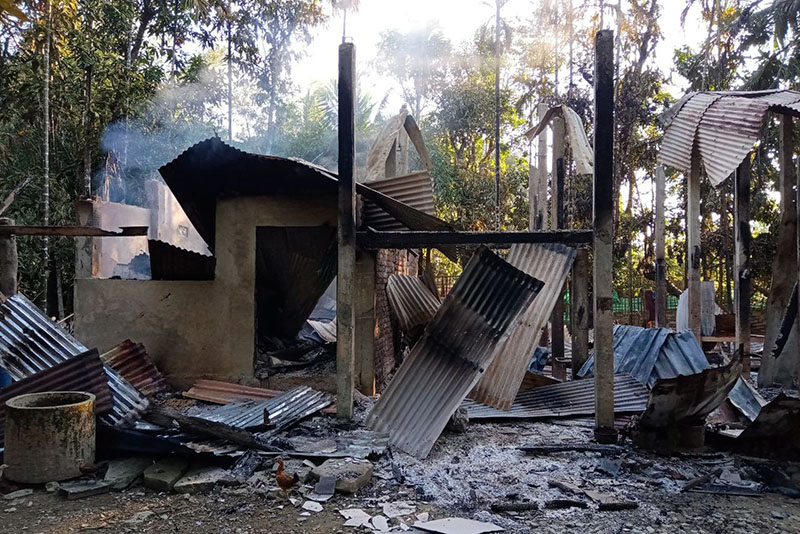 DMG Newsroom
24 November 2022, Sittwe

Since renewed fighting erupted between the Myanmar military and the Arakan Army (AA) in August, 23 houses were razed by artillery strikes and junta arson attacks in Arakan State.
According to a DMG tally by township, 11 houses were burnt down in Maungdaw, three houses in Buthidaung, eight houses in Ponnagyun and one house in Kyauktaw.
In one instance, the AA attacked junta troops deployed at a monastery in the ethnic Mro village of Wetkyein, in northern Maungdaw Township, where a local resident told DMG that he saw houses on fire during the five hours of fighting that ensued.
Villagers reported that seven houses were burnt down when they returned to assess the aftermath in their village the following day. Most residents of Wetkyein have fled to Khone Taing and Myawaddy villages, said a resident.
"We went back to the village to see the situation after we heard houses were burnt. At first, we thought only two or three houses were burnt. But seven houses were reduced to ash," he said.
Junta troops are also accused of setting two houses on fire in Hparwutchaung Village, Maungdaw Township, on October 10. Myanmar's military regime and the AA have traded blame for the arson.
On November 10, two houses caught fire after being hit by artillery shells in Maungdaw Township's Yanaungpyin Village.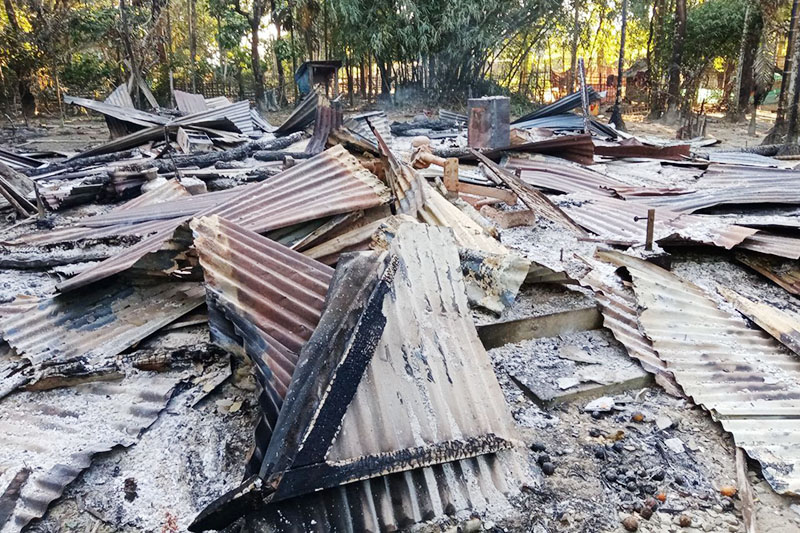 "Two houses were burnt down due to artillery strikes. The families from those two houses are staying at the houses of their relatives in the village," said a Yanaungpyin Village resident.
A free school, a hostel and a dining hall were torched at a Buddhist monastery in Khamaungseik Village, in northern Maungdaw Township, on August 30, according to local residents.
Three houses were also set ablaze in Thabeik Taung Village, Buthidaung Township, on September 23, said villagers.
"Three houses including mine were torched. Since then, we have been living at a displacement camp. And we have difficulties," said one resident.
Junta troops also raided Sin Inn Gyi Village in Ponnagyun Township on November 10, and torched eight houses, villagers have alleged.
"Myanmar military soldiers came and torched houses that day. In my house, harvesters and motorbikes were also burnt in the fire," said a resident of Sin Inn Gyi Village. The financial loss was around 20 million kyats. I have been staying at the house of my relatives in another village. I don't know if I can rebuild my house."
Junta troops also set fire to a house in the village of Kaung Toke in Kyauktaw Township on October 5.
DMG was unable to contact junta spokesman Major-General Zaw Min Tun and Arakan State Security and Border Affairs Minister Colonel Kyaw Thura for comment.
Several houses have also been reportedly damaged by junta artillery fire in Minbya, Kyauktaw and Mrauk-U townships.