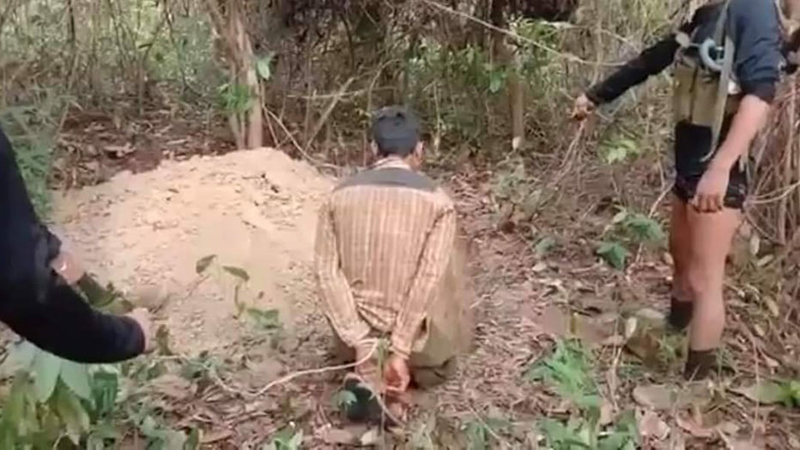 Kyaw Thu Htay/DMG
October 31, Sittwe
A video purporting to show a man in an unknown area being killed by the one of the armed groups has gone viral on social media since the evening of October 30, and the public are blaming the AA.
The video file was one minute and 7 seconds long and was posted on social media using a pro-military account with the description, "The AA (Arakan Army) accused an Arakanese person of being a traitor and killed him with a bamboo stick."
In the video, the person, who was apparently killed, prayed for the Arakan Army to have peace. That's why some people have accused the AA of perpetrating this media stunt.
Khaing Thukha, the AA spokesperson, said that they didn't commit the crime and responded that the Tatmadaw was spreading disinformation about the group during the visit to Myanmar of the US Assistant Secretary of State for East Asia and Pacific Affairs.
"When we watched the video closely, we found out that by using an Arakanese soldier from their troop, the Tatmadaw made it look like the AA killed an Arakanese person. And we found out that the group who committed the crime didn't wear uniforms. We assume that the Tatmadaw created that video with a plan to arouse racial hatred", he said.
Regarding the accusation by the AA, DMG tried to contact Colonel Win Zaw Oo from the Western Command, he said that he was not justified to respond because the Tatmadaw didn't do anything.
Daw Khin Saw Wai, a member of Pyithu Hluttaw from Rathedaung Township, said that she didn't support any act of terrorism.
"We can't accept this act. Whoever carried this out shouldn't have done it. It isn't a good sign that humans are being tortured and human rights [are being violated]," she said.
Khaing Thuka said that the AA denounced the crime and will investigate it to get to the truth.
"We, the Arakan Army can't agree with this brutal killing and fully condemn it. Whoever did this should be properly reprimanded. We will try our utmost to get the truth regarding this cruel crime," Khaing Thukha said.