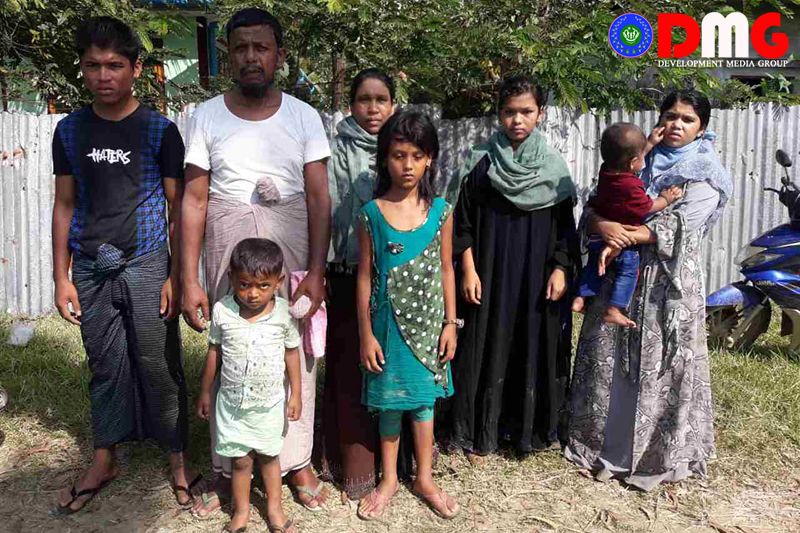 Cha Lu Aung/ DMG
1 November, Maungtaw
46 Muslims returned to Maungdaw Township, Arakan State from Bangladesh on 31 October, U Soe Aung, Deputy Commissioner of the General Administration Department told the DMG.
They voluntarily came back to Bangladesh via Taungpyo Letway and Nga Khura reception centers in Maungdaw Township and are currently being resettled in their relatives' houses, he said.
"Actually, the returnees must be resettled at Hla Phoe Khaung transit camp. But they were transferred to their relatives' homes on their own volition due to security reasons. All necessary arrangements will be made under the Union Enterprise for Humanitarian Assistance, Resettlement and Development (UEHRD) plan in Rakhine State. We would build new villages at closest locations of their former villages when an influx of displaced people returns home," he added.
So far, a total of 397 Muslims has voluntarily returned to Arakan State from Bangladesh. The Ministry of Social Welfare, Relief and Resettlement is providing the returnees with humanitarian and rehabilitation support on a monthly basis, according to a press statement issued by the Ministry of Foreign Affairs on 1 November.
The statement said that Myanmar government is closely cooperating with UN agencies to implement safety and security measures for the returnees in accordance with the bilateral agreement with Bangladesh.
Myanmar agreed to receive the displaced people who fled to Bangladesh in November last year and August this year but very few people returned.
Many policemen were killed in the coordinated attacks by ARSA terrorists in Maungdaw Region in 2017. In response, the Tatmadaw launched military clearance operations in Arakan State, forcing more than 700,000 Muslims to flee to Bangladesh, said the United Nations.