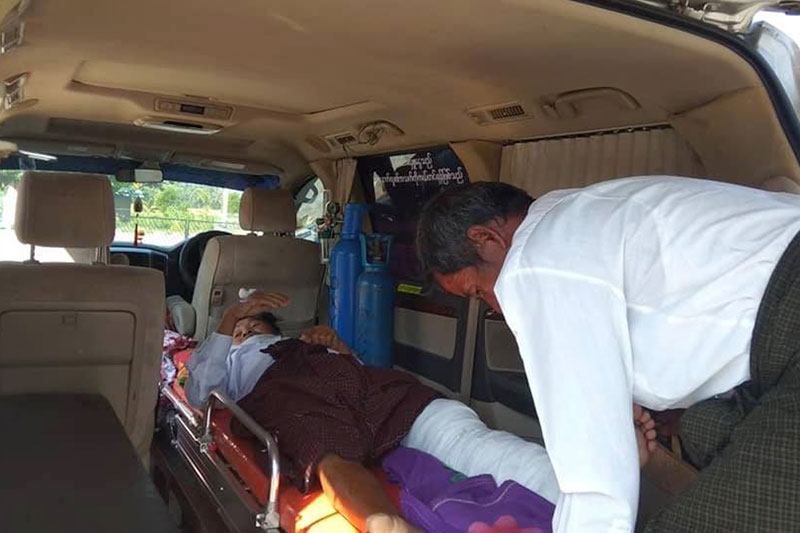 Win Nyunt | DMG
23 November, Sittwe
 
Two civilians, who were travelling on a motorbike at night in Ponnagyun Township were shot by the Tatmadaw, both are receiving medical treatment now.
 
A few minutes after 9a.m. on 12 November, 24-year-old Ko Soe Min Tun and 23-year-old Ko Zaw Chay were travelling from Ywar Thar Yar village to the town of Ponnagyun and were shot arriving at Military Command 550, according to family members of the injured.
 
"They were shot while going to a relative's house. He is in Ponnagyun Hospital now. The condition of the injury has not been known yet since the operation isn't still done. The X-ray image has been taken though," says one of the family members.
 
Ko Soe Min Tun got injured on his thigh and Ko Zaw Chaywas injured on his calf, and they are both now getting treatment in Ponnagyun Hospital.
 
Ponnagyun Township is among the townships that are under curfew.
 
"It was after 9a.m and Ponnagyun has a curfew. As they were riding a bike on Yangon-Sittwe Road at that hour, Command 550 shot them arriving in front of their base," says MP for Ponnagyun's Amyotha Hluttaw U Khin Maung Latt.
 
Colonel Win Zaw Oo of the Western Command says he has no knowledge about the incident, as there is no report yet.
 
Nine townships in Arakan State have been experiencing armed fights, and since last April, a curfew has been imposed on Ponnagyun, Minbya, Mrauk-U, Buthidaung, Maungdaw, and Rathedaung townships.
 
During the fights between December 2018 and October 2019, more than 80 civilians were killed and more than 120 injured.
 
During 18 November session of Pyidaungsu Hluttaw, MP Daw Htu May of Amyotha Hluttaw mentioned that innocent civilians had been killed by guns while travelling.
 
On 1 August, a man named Ko Chit Thu Aung was shot and killed out of two people who were shot by the Tatmadaw while they were going back to Sittwe from their work in Ponnagyun a few minutes after 11p.m.
 
Again, later on 2 October, another man, Ko Soe Naing from A Pauk Wa village in Kyauktaw Township was shot and killed by the Tatmadaw while he was going to his job in town a few minutes after 5a.m. in the morning.
Related Post : A local shot dead for violating curfew