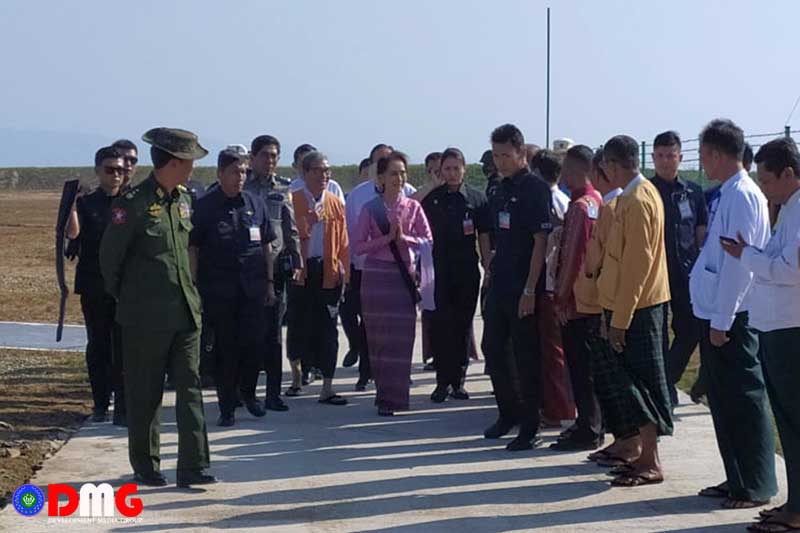 Aung Kaung Zaw | DMG
19 December, Manaung

Three explosions rocked Manaung Township in southern Arakan State just hours before State Counsellor Daw Aung San Suu Kyi arrived there on Thursday for the inauguration of a solar power plant on Munaung Island. The ceremony to christen the plant went ahead as planned, with Daw Aung San Suu Kyi in attendance, despite the nearby explosions earlier in the morning.  

The three roadside blasts in front of the Nga Inn village cemetery, about two miles from Manaung town, were reported on 19 December at about 6:30 a.m. The state counsellor arrived at Manaung town at 9 a.m. and attended the opening ceremony for the solar power plant in Kha Ohn Maw village.

Fighting between the Tatmadaw and the Arakan Army has flared in the state's nine townships in recent months, but Manaung had heretofore been a region of relative calm. Residents said Thursday's bomb blasts were the first significant incidents in the southern township that were potentially related to the broader conflict.  

 "We were afraid when we heard the bomb blasts. We were worried about the possible risk of undesirable events," said U Nyi Pu, a resident of Phayagyi Gone village.

No one has yet claimed responsibility for the bombings and security in the region has been tightened, according to Manaung Township police.

Daw Aung San Suu Kyi spent more than two hours in Manaung town during Thursday's visit, emphasizing stability and peace in the region.