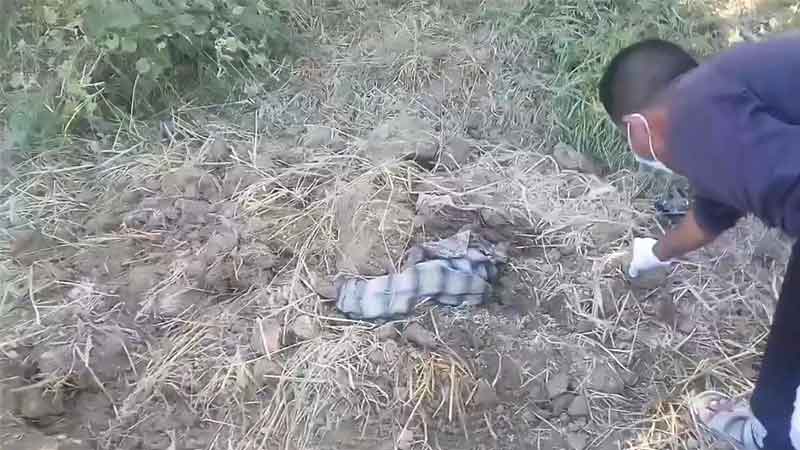 Win Nyunt | DMG
23 December, Sittwe

Two men from Kam Htaung Gyi town in Myebon Township, Arakan State, who went missing on December 18, were found dead on December 22, according to family members.

The bodies of U Ni Than, 60, and U Kin Chay, 40, were pulled from a gravel pit some 300 feet from a paddy field owned by U Ni Than, said Ko Thaung Hla Shwe, a family member of U Ni Than. U Ni Than's body was found with a slash mark on his chest, and U Kin Chay's throat was slit.

Family members said they suspect that the pair, who went missing while harvesting their paddy fields near Mt. Yay Htoe in Kam Htaung Gyi, were taken by Tatmadaw troops because a military contingent from Light Infantry Division 66 was stationed near the area.

"U Ni Than brought his wife to the village at about 4 p.m. on December 18 and told his wife to hire a vehicle for carrying paddy. Then, they went back to the paddy field. Since then they were missing," Ko Thaung Hla Shwe said.

Villagers initially did not dare to search the area where the men were last thought to be, due to the presence of the military contingent nearby, and only did so after the troops had left, he said.

DMG was unsuccessful in attempts to contact Colonel Win Zaw Oo, head of the Tatmadaw's Western Command, to seek comment on the two villagers' deaths.

Local populations have frequently been victims of a conflict that has for years pitted the Tatmadaw against the Arakan Army, from large-scale displacement to civilian casualties.