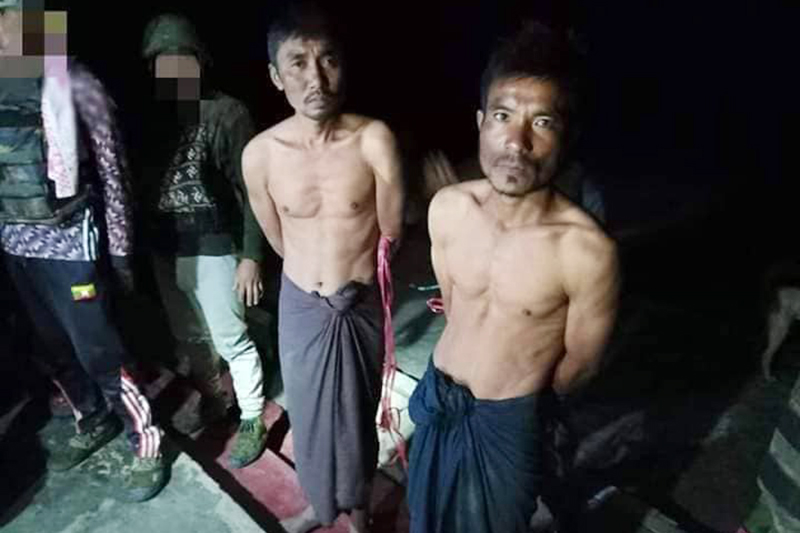 Cha Lu Aung | DMG
December 24, Buthidaung
 
Two residents of Phar Wat Chaung village in Maungdaw Township, Arakan State, were charged under the Counter-Terrorism Law and remanded into custody by a court in Buthidaung Township on December 23.
 
The detainees, U Khin Maung Hla and U Kyaw Naing, were detained near Thone Sant Thit Bhon Pagoda in Buthidaung Township on December 19.
 
Daw Thandar Hlaing, the wife of U Khin Maung Hla, said that although her husband was remanded, his relatives have not been allowed to meet with him.
 
"They were remanded at the Buthidaung court and haven't met family members yet. They are charged under Sections 50(a) and 52(a) of the Counter-Terrorism Law," she said.
 
Their family members say U Khin Maung Hla and U Kyaw Naing were detained by the Tatmadaw while they were traveling to meet U Khin Maung Hla's daughter in Rathedaung Township, where she is studying.
 
"He went to give money to his daughter. They were accused of being AA [Arakan Army] members and detained on their way. We found out by reading the news online that day," Daw Thandar Hlaing said. "We cannot do anything at the moment but we are preparing to submit this case to higher levels of authority."
 
U Aung Thaung Shwe, a Pyithu Hluttaw member from Buthidaung Township, said the detainees were civilians, and that he was arranging to send a letter about their situation to the authorities.
 
"They are just civilians. Their family members called and told me that they live in Phar Wat [Chaung] village in Maungdaw. That's why I am arranging to send a letter to stop these unpleasant things from happening," he said.
 
Hundreds of people in Arakan State have faced similar charges in recent years, accused of having links to the Arakan Army.
Related Post : Two men reportedly arrested by Tatmadaw in Buthidaung