Border Dynamics at Play as Armed Conflict Returns to Arakan State
The fighting flared, according to local residents, because junta troops and border guard police attempted to encroach on AA-controlled areas on the pretext of border patrols to monitor the movement of the Arakan Rohingya Salvation Army (ARSA).
By Gaung 06 Nov 2022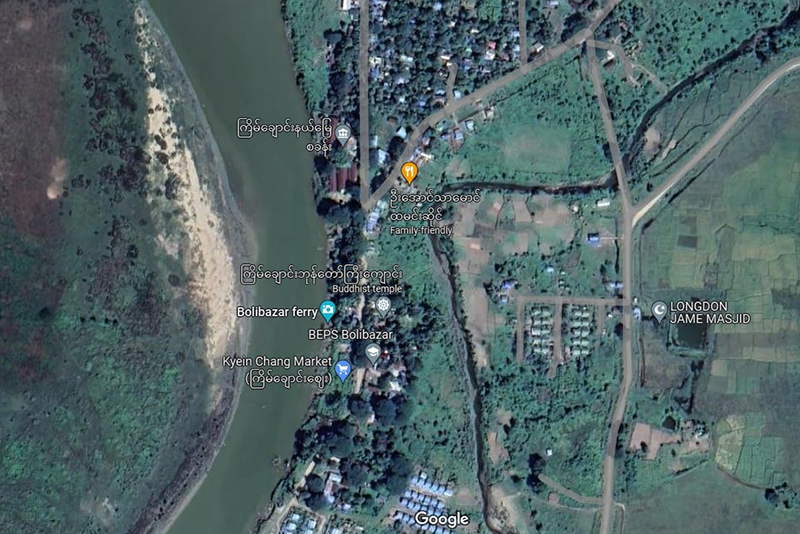 Written By Gaung
After 18 months of relative calm since the Myanmar military and Arakan Army (AA) reached an unofficial ceasefire in November 2020, following two years of often-intense fighting, Arakan State has returned to full-scale armed conflict.
After months of simmering tensions, a series of clashes broke out in Chin State's Paletwa Township in May before spreading to parts of Arakan State. It is important to note that Maungdaw Township, which borders Bangladesh and was largely spared from the previous fighting, has lately seen near-daily clashes, some even involving gunships and jet fighters. 
"Maungdaw is important for the AA," said political analyst and former lawmaker U Pe Than. "The AA knows that Bangladesh will treat it well only when it has control over the border."
Prior to the resumption of full-on conflict in August of this year, a clash broke out in northern Maungdaw Township on November 9, 2021. Two more clashes occurred in February 2022.
The fighting flared, according to local residents, because junta troops and border guard police attempted to encroach on AA-controlled areas on the pretext of border patrols to monitor the movement of the Arakan Rohingya Salvation Army (ARSA).
Following escalating military tensions in Arakan State, the two sides clashed fiercely on July 18, 2022. The AA reported that it had captured 14 junta personnel in the fighting. The ethnic armed group said the attack was in retaliation for the junta's deadly air raid on an AA outpost in an area controlled by the Karen National Liberation Army (KNLA) near the Myanmar-Thai border in Karen State on July 4. Six AA fighters died in the aerial assault.
Clashes have continued with regularity since August 2, many near Myanmar's borders with Bangladesh and India.
"For now, we have fierce fighting in Maungdaw as well as near the Indian border in Paletwa," said AA spokesman U Khaing Thukha.
Following the rising military tensions, Myanmar's military withdrew from seven junta and border guard police outposts in northern Maungdaw Township, the AA spokesman said during a press conference on August 11. There were more than 100 junta troops and border guard police deployed at those outposts, according to local residents.
The AA seized a border guard police outpost at mile post No. 40 on the Myanmar-Bangladesh border on August 31. Nineteen border guard police were killed, and one was captured and injured, the AA said.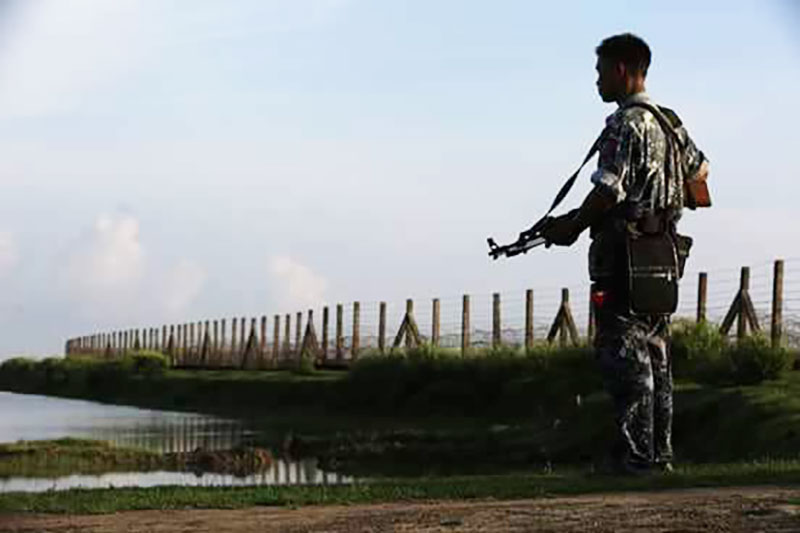 Being a border region, Maungdaw holds strategic importance for the AA. If the ethnic armed group can take total control of the area, the thinking goes, the Bangladeshi government will inevitably have to engage with the AA, paving the way for the AA to establish external relations and even potentially to win international recognition.
"If the AA can control that region [Maungdaw], this will bring the AA not only military advantage, but also financial benefits. So, the AA might be fighting for the Maungdaw economic zone," said political analyst U Than Soe Naing.
The Myanmar-Bangladesh border trade is a major source of income for the Myanmar junta, with trade figures for July through two border trade camps in Arakan State standing at more than US$2.1 million, according to the Rakhine State Chamber of Commerce and Industry.
In an interview with the Bangladesh-based Prothom Alo news outlet on December 19 of last year, AA chief Major-General Twan Mrat Naing was quoted as saying: "We want to have good ties with Bangladesh, and we especially want Bangladeshi people to know about our real-life struggle."
The AA has consistently sought to foster military, political, economic and diplomatic ties with Bangladesh, a fact that was reflected in an AA statement on February 21.
In a statement marking International Mother Language Day on February 21, the AA said: "Bangladesh and Arakan established civilisations and countries in the Bay of Bengal and along the shore of the Naf River. The two societies are culturally and historically intertwined, and Bangladesh is part of Arakanese society, and vice versa."
"We have always wanted bilateral cooperation for mutual benefits. We can't exactly tell the level of our relationship with Bangladesh, but we can say we have a certain level of cordial relations," U Khaing Thukha said during a press conference on April 5.
The AA's approach to Bangladesh reflects its desire to force an alliance with the neighbouring foreign country in furtherance of its confederate dream, political analysts say. The confederate status desired by the AA is a sovereign state with its own legislative and judicial system, independent financial policy, resource management and foreign relations.
The AA has capitalised on last year's coup as the regime is faced with a widespread Civil Disobedience Movement and armed resistance in many parts of the country. In Arakan State, the Myanmar military's international reputation is unlikely to be rehabilitated for many years, if ever, owing to the atrocities its forces committed against the state's Muslims in 2016-17, which many believe amount to war crimes and even genocide.
Ethnic armed organisations (EAOs) representing ethnicities including the Kachin, Karenni, Karen, Chin, and Shan are often based and active along Myanmar's border areas. Some EAOs are able to manage border crossings and take advantage of the economic opportunities that these geographic positions make possible. 
"Those who can control the Maungdaw border have many advantages, such as gaining access to military penetration routes and controlling the commercial border with Bangladesh," said Colonel Min Tun, leader of the Arakan National Council and Arakan Army (ANC/AA), which is distinct from the aforementioned Arakan Army.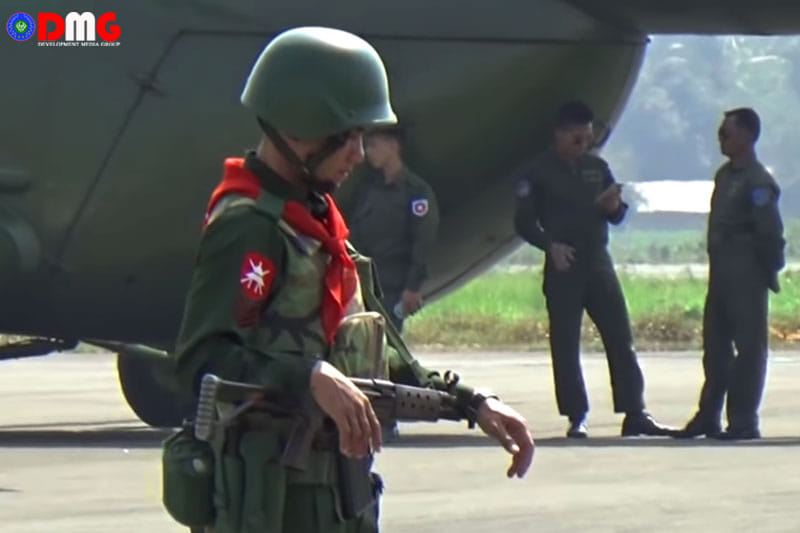 "As for the current military situation in Maungdaw Township, it would be a bit difficult to estimate the strengths and weaknesses of both sides. Because it's an armed conflict, only those who are fighting know the true situation best."
Maungdaw Township is located between the Bay of Bengal and Bangladesh to the west, and the Mayu Mountains to the east. With an area of about 586 square miles, it consists of 405 villages across 11 wards and 98 village-tracts, according to data compiled by the General Administration Department.
There are 12 police stations and 168 police outposts under the command of the No. 1 Border Guard Force in Maungdaw Township. In addition, hundreds if not thousands of soldiers have been sent to Maungdaw Township as reinforcements in recent months.
The Arakan Army (AA), meanwhile, has formed brigades across the entire northern part of Maungdaw Township and is operating along the Myanmar-Bangladesh border with a force of about 1,000, according to people close to the AA.
In his interview with Prothom Alo, AA chief Major-General Twan Mrat Naing said the AA is trying to meet informally with Bangladeshi authorities in order to allow the Muslims who fled Myanmar in 2016-17 to return. Former United Nations Secretary General Kofi Annan's advisory commission report on Arakan State rightly noted that the Maungdaw region is plagued by development, human rights and security crises. 
Several years before the 2016-17 Muslim exodus, there was widespread violence between the Muslim and Arakanese communities in Arakan State in 2012. Though relations between the two communities have since improved, there can be no doubt that the Maungdaw region and Arakan State as a whole still face many sensitive issues based on race and religion, security dynamics, and economic factors.