Erosion Threatens Existence of Pauktaw Township Village
Enormous waves galloping up from the Bay of Bengal have been pounding Thae Khon Village day and night for years. The village has been gradually eaten away by the sea.
By Admin 13 Apr 2023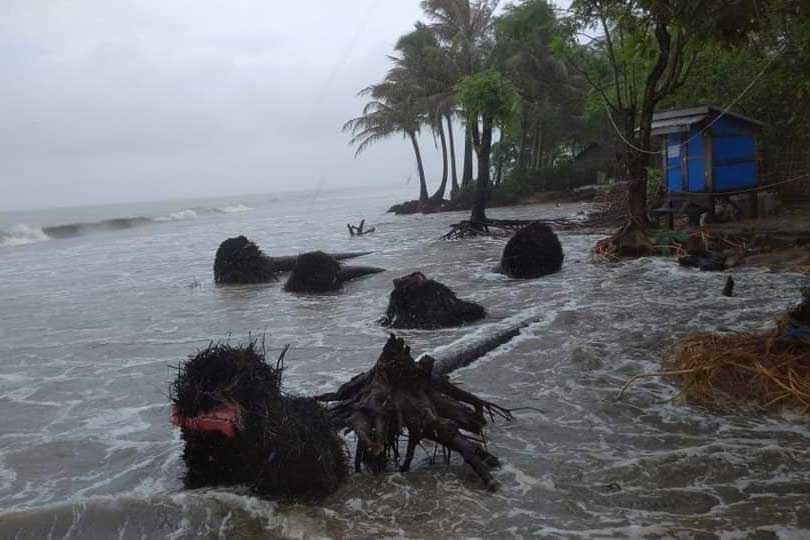 Written by Cho Mar Win
Enormous waves galloping up from the Bay of Bengal have been pounding Thae Khon Village day and night for years. The village has been gradually eaten away by the sea.
Local residents say there is nothing they can do to stop this; that they can only watch it happen as their hearts ache. Sometimes, houses in Thae Khon Village are literally washed away by the waves.
Located on Anauk Phayonekar Island aka Myay Ngu Island in Pauktaw Township, Thae Khon is one of a category of villages in Arakan State that suffer existential peril due to seaside erosion.
"When the tide comes in, floodwaters reach as high as the chest. The whole village is flooded," said Ko Aung Aung Htoo, 30, from Thae Khon Village.
Fishing is the main source of livelihood in the village, which has a population of more than 1,700 people. Outside their doors, the Bay of Bengal provides for income, while simultaneously threatening financial ruin for Thae Khon villagers.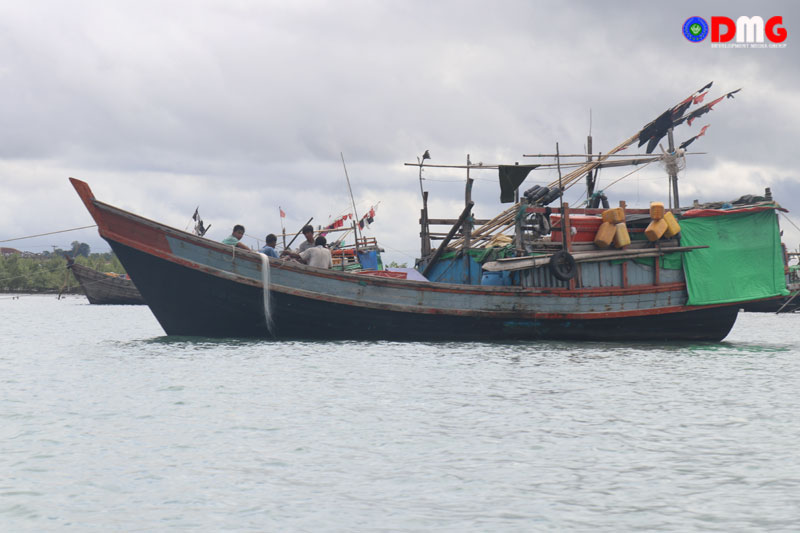 Residents have to keep a close eye on the weather, and some flee to nearby villages every time weather reports say a storm is incoming. In October of last year, Cyclonic Storm Sitrang swept through Arakan State. Six houses were completely destroyed in Thae Khon, while several others had their roofs damaged. Jellyfish farms in the village were also damaged.
"Our lives are at risk in the rainy season," said 100-household administrator U Sein Hla Oo of Thae Khon Village.
Anauk Phayonekar Island is located five kilometres south of the Arakan State capital Sittwe, and is home to more than 40 villages. Thae Khon is located at the far end of the island, and has suffered most from erosion.
A school was swept away by erosion a few years ago, forcing villagers to build a new one. More than 100 houses have moved inland, away from the shoreline, because of steady erosion.
"Our village is doomed," said Ko Nyi Tun Chay.
Despite the village being eaten away over the years, Thae Khon still has no retaining walls, and no cyclone shelters.
In cases of serious flooding, Thae Khon Village becomes cut off from other villages on the island, according to former Arakan State lawmaker U Aung Kyaw Htwee from Pauktaw Township.
"The whole village might have to relocate one day if erosion is not handled in time," he warned.
When a port was built in Sittwe for the Kaladan multi-modal transit project, sand was mined from the mouth of the Kaladan River for the construction. The sand mining led to erosion at the opposite bank and houses were inundated, according to the Arakan Rivers Network.
Before moving forward with the Kaladan project — a joint venture between the Myanmar and Indian governments — there is a need to make public data about its potential benefits for local people, and its environmental and social impacts, said Ko Tin Oo, executive director of the Arakan Rivers Network.
Myanmar and India signed a bilateral agreement in 2008 to connect the port and inland water transport terminals in Sittwe and Paletwa, Chin State, to the northeastern Indian state of Mizoram, also linking Sittwe to the port city of Kolkata in "mainland" India under its "Look East" policy.
The US$484 million Kaladan multi-modal project, which is being funded by India, will include two major land and sea routes: a waterway from Sittwe to Paletwa and a road link from Paletwa to Mizoram.
Thae Khon Village has been affected by sea erosion for more than 10 years, but a retaining wall, which the villagers have repeatedly requested, has not yet been built.
Residents say they have gone to Arakan State Minister for Natural Resources U Than Tun and asked him to build a retaining wall for Thae Khon Village.
DMG attempted to contact U Than Tun for comment on the matter, but he could not be reached.
"We have been suffering from sea erosion for about 10 years. Almost every year, the land gradually erodes. If this continues for a long time, Thae Khon Village may disappear," said Daw Ma Nyunt San, whose home was destroyed by erosion.
As a result of the Sitrang storm, seawater flooded the ponds used by the villagers, and efforts to dig new wells have yielded only saltwater.
"Only seawater comes out, so the villagers have to buy drinking water from Gyinchaung Village," said U Ba Maung Tun, the administrator of Thae Khon Village. "If the villagers can't afford to buy drinking water, they have to drink seawater, causing the children to vomit and develop dysentery."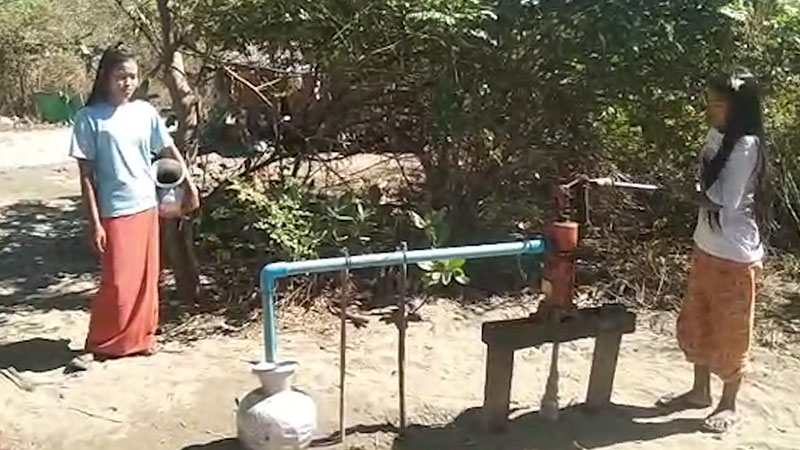 Both children and adults in Thae Khon Village have suffered from diarrhoea and urinary tract infections that locals are blaming on the fact that the village has had limited access to clean drinking water since Sitrang. Some children are receiving medical treatment at Sittwe Hospital.
"As the water is not clean, people who drink it develop sores on their skin. Both children and adults in the village are suffering from skin and diarrhoeal diseases," said U Sein Hla Oo, a resident of Thae Khon Village.
To this day, Thae Khon villagers have not received an answer from authorities on how to get clean drinking water. Between that issue and the ever-present threat of erosion, Thae Khon's days as a viable settlement may indeed be numbered.