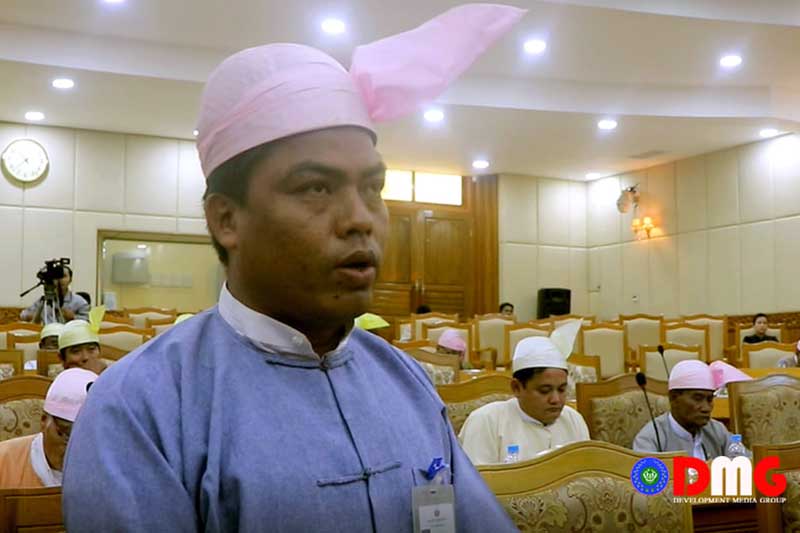 Aung Htein | DMG
24 December, Sittwe

A proposal urging the state government to suspend collection on agricultural loans in areas where farmers have faced conflict-related difficulties was submitted to the Arakan State legislature on December 24.

Farmers from northern Arakan State townships such as Minbya, Mrauk-U, Kyauktaw, Ponnagyun, Rathedaung, Maungdaw, Buthidaung and Myebon have struggled to raise and harvest their crops as armed conflict between government troops and the Arakan Army drags on, said U Hla Thein Aung, the state hluttaw MP for Minbya who submitted the proposal.

"Farmers have suffered hardships and are in debt as they cannot grow monsoon paddy in some areas due to fighting and harvesting paddy also [is difficult]," said U Hla Thein Aung.

Many farmers borrow from the Myanmar Agricultural Development Bank to grow "monsoon paddy" each year, paying off those loans during the harvest season. But with fighting ongoing in northern Arakan State, business as usual — specifically, a repayment schedule that doesn't account for the difficulties many farmers are facing — would bring major financial hardship, said U Hla Thein Aung.

"The Myanmar Agricultural Development Bank provides loans for farmers every year to grow monsoon paddy. Farmers have to pay them off within a specified period. It is impossible for farmers to pay off loans in time as they have faced difficulties due to fighting in Arakan State. If they do, it will be a huge burden for them," he said.

The proposal was supported by U Aung Kyaw Htwee, a state Hluttaw MP from Pauktaw Township. With no members of the legislature objecting to the proposal, the state Hluttaw has agreed to continue discussing it.

Due to the fighting that has occurred over the past year between the Tatmadaw and the Arakan Army (AA), more than 12,000 acres of paddy fields in Arakan State's Rathedaung, Buthidaung, Ponnagyun, Mrauk-U, Minbya and Myebon townships has gone unharvested, according to the Arakan State Farmers' Union.
Related Post : Rice farmers in Arakan State face challenging market