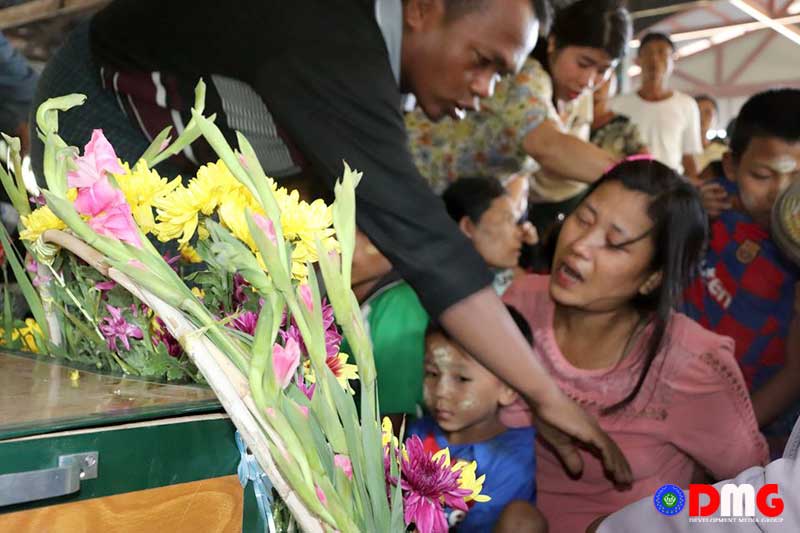 Min Tun | DMG
3 January, Sittwe

The Arakan State parliament approved a proposal on January 2 urging the local government to provide effective humanitarian assistance to the families of civilians who have lost their lives due to armed conflict in Arakan State, as well as disabled persons, wounded people and residents arrested and charged with crimes by the Tatmadaw.

The motion was submitted by U Naing Kyay Aye, a legislator for Thandwe constituency, on December 30. Two lawmakers discussed and seconded the proposal, which was passed by the Arakan State parliament without objection.

U Tun Aung Thein, an MP from Buthidaung constituency who seconded the proposal, said the local government should take public grievances into consideration, warning that Tatmadaw attempts to arrest residents on suspicion of having links to the Arakan Army (AA) had the potential to cause public outrage.

"The local government needs to supply local people who have been charged by the Tatmadaw with necessary assistance because they face many difficulties. In addition, families of the victims of conflict and injured people should be furnished with assistance," he added.

Family members of detainees also face financial problems because they are often internally displaced persons who are sheltering at relief camps, said U Oo Than Naing, an Arakan State lawmaker representing Rathedaung Township who also seconded the motion.

"Some innocent civilians have been held in detention for many days for questioning. They [detainees] encounter many problems after being released from detention. We witness such incidents in every township in Arakan State. The K300 [US$0.20] provided by the government for each displaced person per day is not enough for the families of the detainees. They have to go to Sittwe from Rathedaung Township to ask for permission to see the detainees, bringing food carriers and rice with them," he said.

More than 500 people in Arakan State have been detained by the Tatmadaw on suspicion of having ties to the Arakan Army amid ongoing clashes between the Tatmadaw and the ethnic armed group, according to Thazin Legal Aid.
Related Post : Arakan State legislature approves proposal to boost civilian protections