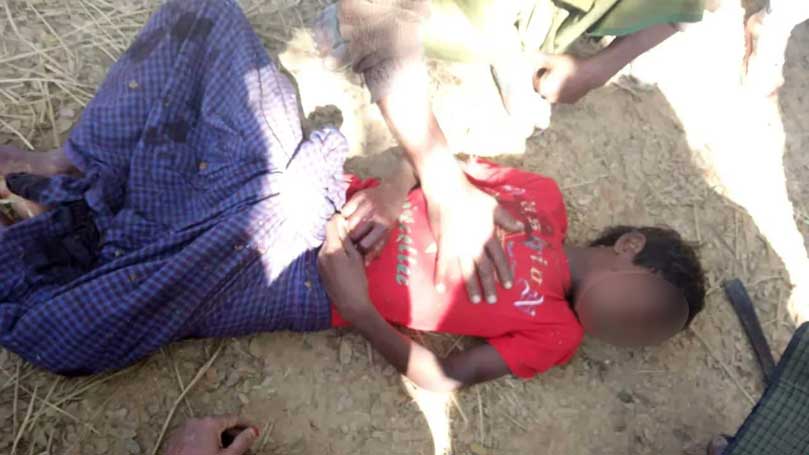 Cha Lu Aung | DMG
January 7, Buthidaung
 
Four students were killed and five others were injured, along with their tutor, by an explosion near Htate Htoo Pauk (Muslim) village in Buthidaung Township, northern Arakan State, at around 10 a.m. on January 7, a village leader told DMG.
 
The blast occurred as the students went with their tutor to collect firewood at the base of a mountain near the village. Two of the deceased were 8 years old and two were 10 years old. The five injured students are from 8 to 10 years old, and the other victim is their 25-year-old tutor.
 
"The tutor took his students to the mountain to collect firewood. After the explosion, a kid covered with blood ran back to the village. People in the village asked what happened. He said to go and check at the site of the accident," said the village leader. "When we went and checked where the blast happened, we saw the remaining nine people there."
 
Three children suffered severe injuries and were sent to Maungdaw Hospital, while the other three victims were taken to Buthidaung Hospital with less serious wounds.
 
A person related to some of the injured and deceased children said village residents did not yet know if the explosion was due to a landmine or artillery fire.
 
Residents said Tatmadaw soldiers were dispatched to the scene of the deadly blast.
 
In October 2019, Tatmadaw and Arakan Army (AA) forces clashed in the hills nearby. Residents said they did not yet know which group was responsible for the explosion, adding that due to the blast, many were afraid to go near the mountain to pick vegetables or cut bamboo.
 
Buthidaung Township's deputy administrative officer U Hla Shwe said the incident was under investigation.
 
Ko Zaw Zaw Tun, secretary of the Rakhine Ethnics Congress (REC), told DMG in the first week of December 2019 that landmine blasts had killed 16 people and injured 57 others in Arakan State since December 2018.
 
Fighting between the Tatmadaw and the AA has affected thousands of Muslims in Buthidaung Township. More than 100,000 IDPs across several Arakan State townships face hardships related to lack of food, shelter, education and healthcare.