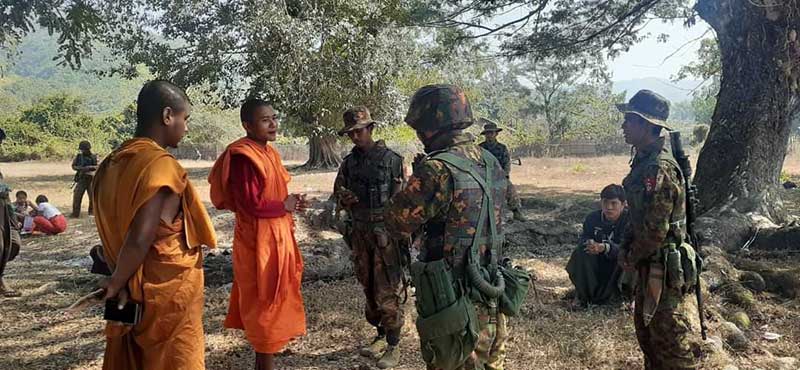 Aung Htein | DMG
January 31, Myebon
Displaced civilians have continued to arrive at the Sa Nyin IDP camp outside the Myebon Township village of the same name, despite a military directive ordering that the camp be dismantled and its inhabitants moved elsewhere. 
With more than 50 displaced persons (IDPs) arriving at the camp in recent days, its total population is now estimated at over 400, said Ashin Arakkha, a camp official.
"As the number of refugees rises, the camp needs more quantities of foods. At present, we supply them with as much food as we can," said the monk.
Those who have sought shelter at the Sa Nyin IDP camp came from Ingyin, Hinkhayaw and Laythway villages in Myebon Township. The camp was established on January 17.
A group of servicemen from Light Infantry Division No. 66 arrived at Sa Nyin IDP camp on January 27 and told camp officials to relocate the temporary settlement to a safer site because it was close to an active conflict zone.
DMG contacted Colonel Win Zaw Oo of the military's Western Command headquarters to discuss the growing displaced population at Sa Nyin and reports that the military was attempting to deter donations to the camp, but he was not accepting media inquiries at the time.