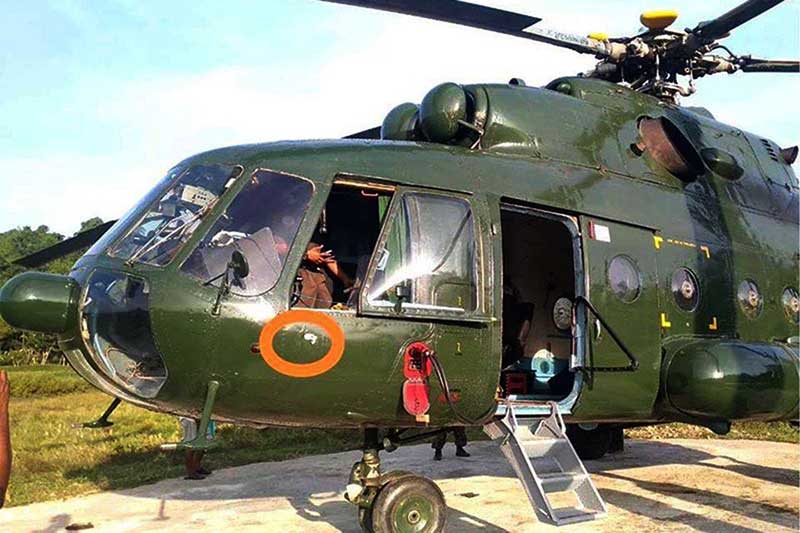 Khaing Roe La | DMG
21 February, Sittwe
 
The Arakan Army (AA) on Thursday issued a statement advising civilians in Arakan State to refrain from using military aircraft, vehicles, and vessels when travelling in conflict zones.
 
The statement came just a day after AA troops in Rathedaung Township trained small arms fire on a military helicopter carrying non-combatants including two government ministers. The Arakan Army said its February 20 warning was intended to avoid unwanted civilian casualties, with the ethnic armed group also urging Arakan State residents not to use civilian vehicles and vessels with Tatmadaw soldiers on board.
 
The military helicopter was carrying Dr. Win Myat Aye, the Union Minister for Social Welfare, Relief and Resettlement, and Arakan State Chief Minister U Nyi Pu when it was fired upon near Ohe Phauk village on February 19. Neither minister was injured in the attack.
 
Khaing Thukha, the Arakan Army spokesperson, later said AA troops did not target the chopper for the fact that it was carrying the high-level government delegation, and rather shot at it because it was a military aircraft.
 
The chief minister and his entourage were flying to Buthidaung Township to provide assistance to students injured by a recent artillery shelling of a school in the township.
 
Speaking during a press conference at the Presidential Palace in Nay Pyi Taw on Friday,
U Zaw Htay, director-general of the Ministry of the State Counsellor's Office, chided the Arakan Army for attacking a helicopter carrying governmental personnel on a humanitarian mission.
 
Hostilities between the Tatmadaw and Arakan Army have plagued Arakan State since late 2018, with Tatmadaw offensive operations sometimes involving aerial support and heavy weapons fire, including airstrikes from fighter jets.
 
The conflict has played out across several townships in Arakan State, including Buthidaung, with both sides suffering heavy casualties. The number of civilians displaced over the past year due to the fighting has surpassed 100,000.