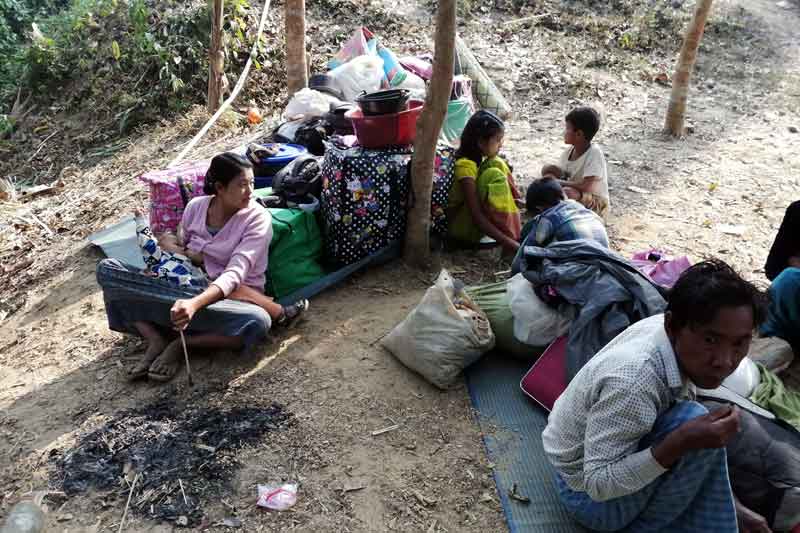 Wun Tha (Maungdaw) | DMG
21 February, Buthidaung
 
Internally displaced people (IDPs) currently taking shelter at temporary relief camps in Buthidaung Township have reportedly asked for help from Union Minister for Social Welfare, Relief and Resettlement Dr. Win Myat Aye to return home ahead of the rainy season.
 
The request was made during a meeting between the Union Minister and displaced people in Buthidaung Township on February 19.
 
An internally displaced woman from Uyinthar village in Buthidaung Township expressed her desire to go back home during the meeting with the Union Minister, but added that she was scared of being hit by stray bullets and artillery shells amid ongoing conflict in the region.
 
"Being IDPs, we spent around five months at Lanmakyaung relief camp. We want to go back home ahead of the monsoon season. But we dare not return home because the Tatmadaw troops always open fire on the village," Daw Hla May Thein from Uyinthar village said.
 
U Nyo Win, another displaced person from Nga Yone Taung village in Buthidaung Township, urged a cessation of hostilities between the Tatmadaw and Arakan Army, which have plagued western Myanmar for more than a year.
 
"Now we, our children included, want to return home. I would like to request the Tatmadaw and Arakan Army to stop the clashes in Arakan State as soon as possible," he added.
 
A team led by Dr. Win Myat Aye and Arakan State Chief Minister U Nyi Pu visited IDP camps in Buthidaung Township, meeting with internally displaced people and providing them with relief supplies.
 
Approximately 3,000 displaced people are currently sheltering at Yan Aung Myay, Lanmakyaung and Mya Taung relief camps in Buthidaung Township, according to camp officials.
 
Some displaced people left their villages to reduce the risk of being trapped by the fighting between the Tatmadaw and Arakan Army, while others fled to safer locations out of fear that they might become collateral casualties of the conflict.