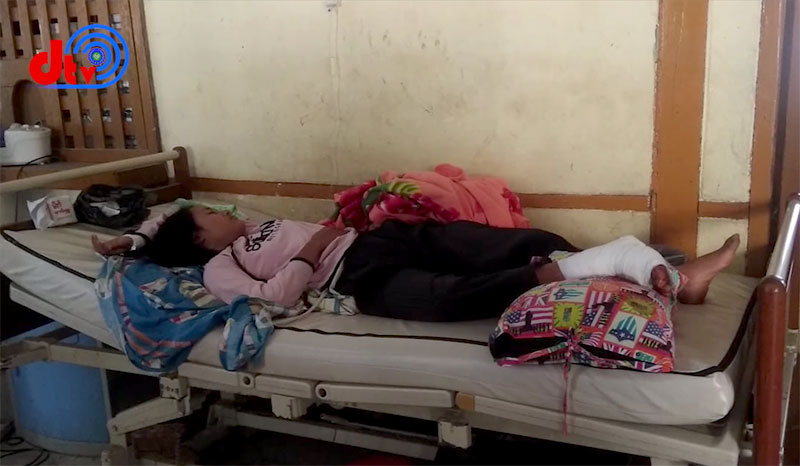 Cha Lu Aung | DMG
26 March, Sittwe
 
A Grade 10 student from 5th-Mile village in Arakan State's Maungdaw Township was injured by a stray bullet while having dinner with her family inside their home on March 25, according to the father of the victim.
 
The victim was identified as Ma Su Pyae Pyae Kyaw, a 15-year-old girl who was hospitalized the day after the incident with a severe gunshot wound on her right foot.
 
The family reported hearing gunfire at about 7 p.m. on Wednesday. A few minutes later, the teenage girl was hit by a stray bullet while escaping the house amid a hail of gunfire, said U Meh Lone Chay, the victim's father.
 
He accused a Tatmadaw battalion providing security along the Maungdaw-Buthidaung Road of opening fire on the house.
 
He continued: "My daughter jumped out of the house riddled with bullets while my wife was attempting to intercept her. Bullets were flying over our heads. My son was safe, but I found my daughter with an injury to her right foot when I rushed to the bottom of the house. The Tatmadaw opened fire on our house. If you don't believe it, you can see my house riddled with bullets."
 
Seeking confirmation of the allegations, DMG attempted to contact Colonel Win Zaw Oo, spokesperson for the Tatmadaw's Western Command, and Brigadier-General Zaw Min Tun from the Tatmadaw True News Information Team, but neither of them responded.
 
The administrator for 5th-Mile village, U Kyaw Kyaw, said the victim's family has earned their living in floriculture for more than 40 years.