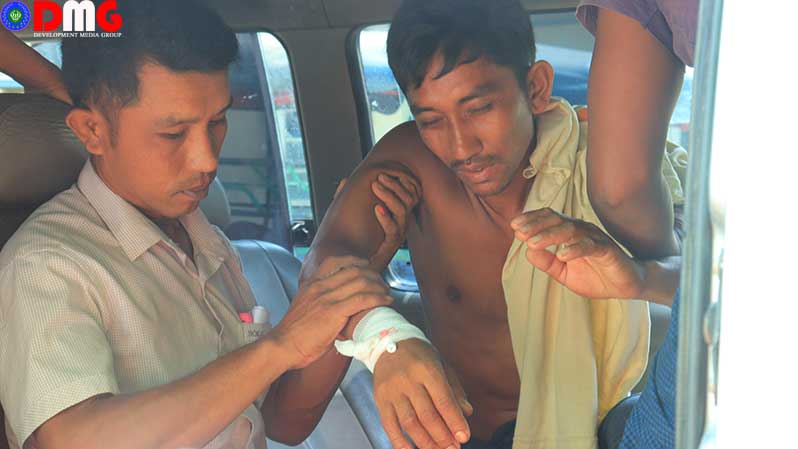 Aung Htein and Zaung (Ponnagyun) |DMG
3 April, Sittwe

A local man was reportedly injured when an artillery shell landed near Letwei Sartaik village in Ponnagyun Township, Arakan State, at about 7 a.m. on April 3, according to family members of the victim.

The 35-year-old identified as U Saw Naing Win was wounded by the shelling as he headed to a field outside the village to tend to a herd of cows, said U Maung San Khin, father of the victim.

"My son went to the field early this morning," he said. "An artillery shell fell beside the road when my son was strolling along the road. My son was roughly 50 meters from the place where the artillery shell landed. He was hurt by a piece of shrapnel."

The victim sustained an injury to his left shoulder and was transferred to Sittwe General Hospital via Ponnagyun Hospital for medical treatment.

There were no hostilities between the Tatmadaw and Arakan Army near the village on the day of the shelling, locals said. Family members of the victim alleged that the artillery shell was fired by the Tatmadaw's No. 550 artillery battalion north of Ponnagyun town.

DMG attempted to contact Colonel Win Zaw Oo, spokesperson for the Tatmadaw's Western Command, and Brigadier-General Zaw Min Tun from the Tatmadaw True News Information Team regarding Friday's shelling, but their mobile phones were powered off.

Another local man from Ponnagyun town's Myothit ward said gunfire could be heard the evening prior to the shelling.

"I was at a teashop when gunfire was heard. So I came back home at once. I heard loud explosions till around [midnight]. I also heard the firing this morning," he added.

The number of civilians killed and injured as a direct or indirect result of clashes pitting the Tatmadaw against the Arakan Army in Arakan State has been rising amid fierce hostilities between the two sides.