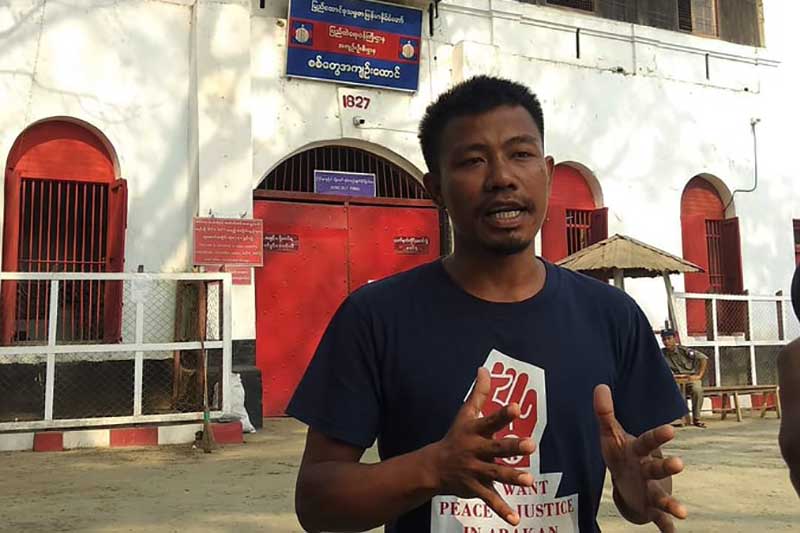 Min Tun | DMG
3 April, Sittwe
Ko Than Hla, who was imprisoned under Section 19 of the Peaceful Assembly Law for demanding justice in the killings of innocent civilians in Arakan State, was released from Sittwe Prison on Friday morning, having served out his 15-day sentence.
The Sittwe District Court delivered its guilty verdict on March 20, for a protest that Ko Than Hla, aka Ko Min Bar Chay, helped organize outside the Arakan State government offices in Sittwe in January 2019. The demonstrators had gathered there to protest the killing of seven people and wounding of a dozen others in 2017 when police attempted to disperse a public gathering in Mrauk-U, Arakan State, by shooting into the crowd.
Following his release on April 3, Ko Min Bar Chay criticized the legal action taken against him. 
"I think the government neglects democratic norms such as freedom of speech and freedom of expression by detaining activists — who are demanding peace, justice and rights in the public interest — and sentencing them to jail," he said. "The government doesn't want the justice and peace being sought by ethnic people. So the government arrests the activists and takes action against them."
Ko Min Bar Chay is a leader of the Rakhine Youth New Generation Network and has also been an outspoken opponent of an internet ban currently affecting eight Arakan State townships, and Paletwa Township in Chin State.