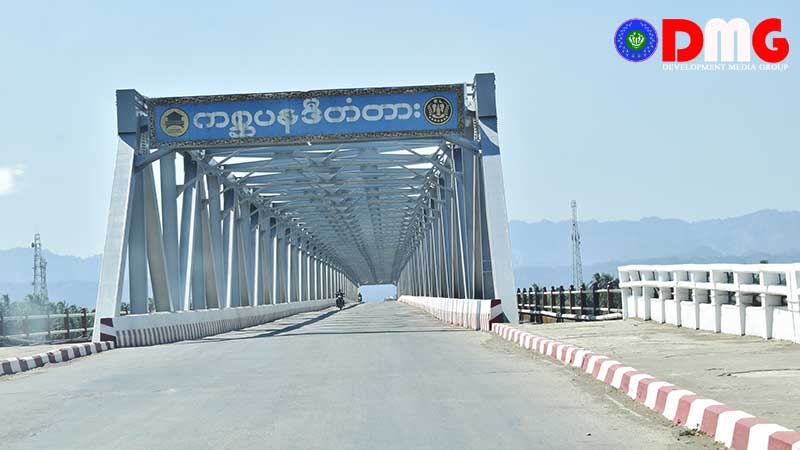 Khin Tharaphy Oo| DMG
4 April, Kyauktaw

A woman and two men were injured on April 3 amid clashes involving heavy weapons and small arms fire near Kissapanadi Bridge in Kyauktaw Township, Arakan State, according to family members of the victims.
The hostilities broke out near the bridge while a Tatmadaw column was passing through in front of U Hla Aung Thar's house in Pike Thal Ward at about 4:30 p.m., injuring the three civilians, their family members said.
U Hla Aung Thar, 67, and U Aung Kyaw Nyunt, 35, from Pike Thal Ward and Ma Thidar Htwe, 22, from Pain Nal Chaung Ward of Kyauktaw town were injured due to the fighting. U Hla Aung Thar sustained wounds to his arm and abdomen, and U Aung Kyaw Nyunt received a wrist injury.
Ma Thidar Htwe was hit in the back by a piece of shrapnel and was sent to Sittwe General Hospital for treatment as her injury was serious, according to Daw Khin Than Nu, the woman's mother.
"An artillery shell landed as she was rushing to a bomb shelter," she said.
U Oo Tun Win, the Pyithu Hluttaw lawmaker for Kyauktaw Township, said anxiety was running high among area residents in the wake of the shootings.
"Now, people are worried about going out. They're worrying that shelling might occur while they're eating or sleeping," he said.
On April 1, a hail of bullets killed five civilians in Kyauktaw town and injured eight others. The downtown Shwe Kyaung Monastery was also badly damaged in the barrage, according to local residents.