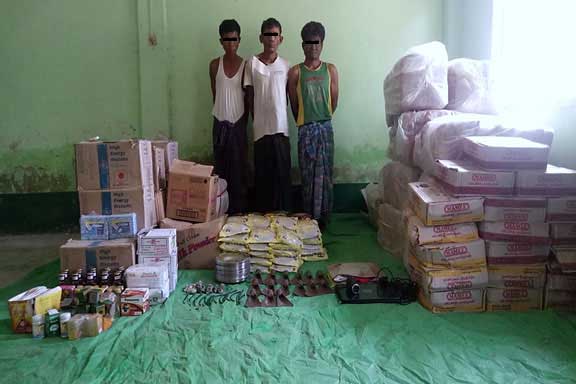 Khaing Roe La | DMG
4 April, Kyauktaw

Tatmadaw troops conducting a surprise check at Thayet Oak village in Kyauktaw Township, Arakan State, arrested three people on April 1, villagers said.
U Aung San Hla, 56, U Soe Shwe Maung, 52, and U Tin Tin Maung, 40, were taken into custody and the Tatmadaw on April 3 announced that they were detained for allegedly having ties to the Arakan Army ethnic armed group.
That accusation was rejected by all three of the men's family members, however.
U Tin Tin Maung was a farmer and did not have any links to the AA, his relative Ko Min Htay told DMG.
"When soldiers arrived at the village, we were told to come out from our houses. But U Tin Tin Maung was hiding in his house because he was scared. He was arrested when soldiers found him in his house," Ko Min Htay said.
U Soe Shwe Maung was arrested by the Tatmadaw on his way to herd cattle outside the village, said his sister Daw Khaing Yay.
She said her brother was innocent and urged the Tatmadaw to release him.
"My brother does not have any connection with the AA. I am worried for him. I want him released immediately," Daw Khaing Yay said.
U Aung San Hla was selling milk in the village when he was detained, residents said.
The Tatmadaw announced that it conducted last week's unannounced sweep of Thayet Oak village after receiving a tip-off that members of the AA were living in the village undercover, pretending to be civilians while collecting extortion money and recruiting.
Rations, medicines, foodstuffs donated by NGOs for war-displaced people, wires used to rig explosive devices, detonators and other provisions stockpiled by the AA were seized from the village, the Tatmadaw said.
The three villagers are being held at the Sittwe Myoma police station and legal action has been taken against them, the military said, adding that charges were also filed in absentia against two other men — U Kyaw Gyi aka U Kyaw Tint, and U Kyaw Thein Chay — who are on the run.