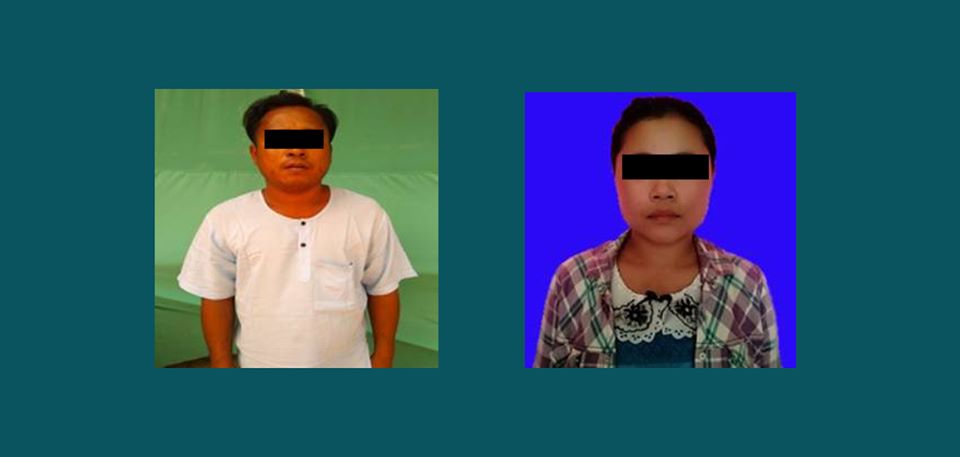 Aung Htein | DMG
5 April, Paletwa
A man and a woman from two villages in Paletwa Township, Chin State, have been detained by the Tatmadaw and stand accused of having ties to the Arakan Army (AA).
U Aung Thein Min, 35, from Hta Ron Aing village and Ma Moe Sandar aka Bo Ma Chay, 21, from Kyauktan village, were taken into custody on the basis of those alleged links to the ethnic armed group, according to an April 4 statement from the Office of the Commander-in-Chief.
U Aung Thein Min was arrested by a Tatmadaw column on March 20 while he was returning to his village after cutting firewood, said Daw Yu Yu, the man's wife.
"I haven't heard any news about my husband since he was taken to our village's jetty while he was going back to our village," said Daw Yu Yu. "I'm worried about my husband. I've never experienced anything like this before. We are poor. We have to earn our living by driving a motor boat."
Ma Moe Sandar, meanwhile, is a teacher of ethnic languages in Kyauktan village who was arrested while she was living in Hta Ron Aing village during her summer holiday, said locals.
The Tatmadaw has accused U Aung Thein Min of being a transporter of provisions for the Arakan Army since 2014.
Ma Moe Sandar is alleged to have persuaded a Tatmadaw soldier to join the AA and act as a double agent to gather information about his military unit. The woman was said to have seduced the soldier after she arrived in Hta Ron Aing village at the beginning of March.
The Tatmadaw said that it handed over the two people to the respective area police stations for action to be taken against them in accordance with the law.
A third individual, U Aung Myint Swe of Hta Ron Aing village, was reportedly arrested by the Tatmadaw's 77th Light Infantry Division at about 5:30 p.m. on April 4 while he was having dinner with his family at his home, according to his wife.
"I asked the captain why they arrested my husband," said Daw Khin New Thein. "The captain said they would question my husband about the motor boats. Although I followed them, they told me not to follow and they would question my husband and release him the next day. But my husband hasn't been released yet."
The Tatmadaw has not yet issued any statement regarding his arrest.
Last week in neighbouring Kyauktaw Township, the Tatmadaw carried out a surprise check on Thayet Oak village, arresting three men there on April 1 who have also been accused of being Arakan Army affiliates.